Flower Essences For Cats by Cat Faeries
Because we are meticulous about feline health with understanding of their likes and dislikes our flower essences for cats are
100% ALCOHOL FREE!

No gooey and messy glycerine or bitter tasting vinegar!
Our proprietary process does not require a preservative stronger than a few drops grapefruit seed extract. IMPORTANT NOTE: As of May 1, 2019 we no longer put plastic seals around the flower essence bottles. We urge everyone to stop using Single Use Plastic.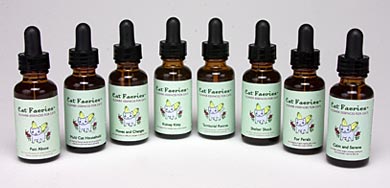 Cat Faeries flower essence formulas are natural solutions for many problems, situations, and conditions effecting the modern house-cat. They are professionally and sensitively crafted just for cats to promote good health and longevity; end litter box avoidance; ease stress and territory battles; bonding of multi-cat households. Negative situations or behaviors can easily change. Cats respond so well to flower essences that we hear from customers who say that their cats practically "ask" for them. Cats want to give you their love, but sometimes there are emotions or situations getting in the way of a cat beng loving, healthy, and happy. Let's change that! Let's make your cats happy! Happy cats are healthy, long living, and litter box using cats!
You will not find these essences or anything like them elsewhere.
TO CUT DOWN ON SINGLE-USE PLASTIC WE NO LONGER USE PLASTIC SEALS ON OUR BOTTLES.
Click on the scenario that applies to you.


Veterinarians, our customers, and animal shelters praise Cat Faeries formulas. They are easy to use in a cat's water bowl or food, or anoint ears/head. Complete instructions for usage are included with your order.

CRYSTALS HAVE BEEN PROVEN TO BOOST EFFECTIVENESS! We strongly recommend that you purchase our carefully selected crystals which will amplify the effectiveness of our flower essences and Convivial House Cat. You'll get our written instructions on how to cleanse, energize, program, and use crystals - everything that you need to know! Behavior improving crystals include: We'll gather up crystals from The Cat Faeries Crystal Cat-Cave which compliment your order! Among the Beneficial Crystals you may receive will be one "Core Crystal" in the shape of a heart of star which amplifies the benefits on that stone. From there we'll select Support Crystals which could include Angel Aura Quartz, Rutiliated Quatz, Lapis Lazuli, Moss Agate, Citrine and others! When you order our health enhancing formulas like Kidney Kitty and Elder Support and purchase crystals we'll select Gold Stone hearts and various Support Quartz. Don't forget to order a pouch or two of crystals when you order our flower essence formulas!

Daphne says:
"Auntie Cat Faerie gets so many emails from people who are delighted by how their cats are happier, and how they become Flower Essence Superstars because of our pioneering formulas. Homes become peaceful. The fighting stops. Fear and nerves are settled. Litter boxes become friends again. Bullies are transformed. The fearful become bold. The advancing years become easier and less of a burden for the cat and loving guardian. Past abuse is kicked to the curb. Weíve been creating formulas specifically for the modern house cat since 1995. We are ahead of the pack and our quality is known far and wide. You simply will not find these products or level of professionalism, skill, or compassion anywhere else."
---
1 fl oz


Calms down aggressive bullying behavior inflected on other cats in your home. Transform both male and female bullies.

$25.95

In Stock

Just like human bullies the same unwanted trait can occur in cats. Often weíll have a cat who seems to take delight in tormenting all the other cats, or they will single one out. This could be a reaction to insecurity or jealousy, or a personality trait. The actions of a bully cat are stressful to the picked on cat and to you. The chasing and stalking keeps the tension level in your home at an unhealthy high. It can also cause the picked on cat be afraid of the litter box and not use it if the bully cat chases the more timid cat out from it. This is something we do not want!

With compassion towards the bully and an understanding of what it must feel like inside to have the need to bully and pick on others, weíve sensitively and professionally crafted this formula. From Bully to Buddy addresses a wide variety of reasons and causes while helping the cat find his or her heart and bond for all in the family. The goal is to see a behavior shift and the tension settle down so that peace is restored and the picked on cat or cats can breathe a sigh of relief so that all of your cats may enjoy their life in your loving home.

For the picked upon cat or cats, consider using our Release the Past formula in tandem with From Bully to Buddy.

We have selected special crystals for this formula - you may order them on the link provided.

NOTE: if the bullying came on suddenly and itís directed at an older cat please take that cat to vet for a check up. Very often healthy animals will turn on an older sick animal. Itís that ancient survival of the fittest thing which is so unnecessary in our modern times with great health care and good doctors. Sometimes the aggression against one cat is an early sign that something is wrong health wise.

Priced for a bottle with a dropper. But some people prefer a mister top so they would be able to spray this formula around the house and on objects. You could also spray it on food or in the water bowl. If you would like a mister top instead of the dropper you can order one for just $1 at the bottom of this page.

Miles says:
"Iím a rambunctious youngster who loved nothing better than bugging the two kitty girls in our house. They hated it but I thought it was good fun to chase them and hear them hiss! Now Iím no longer a bully, and I actually like this better because being a dignified buddy is easier than being a scary bully!"
---
---
1 fl oz
Make friends and a feel a deep bond with other cats and family members. Acceptance of others. Tolerance. Personal Space. Compliments and boosts Convivial House Cat for ending urine spraying and inappropriate urination. Helps cats accepts other species, like dogs!

$25.95

In Stock

Not all cats like living with other cats, and when they don't, oh do you know it! But we want them to get along and be friends. This remedy will help calm hissy kitties, and lessen the frequency of jealous outbursts. For some cats no matter how large the home is they can feel like its a crowd! Your cats will accept and tolerate each other much better with this great formula. Multi Cat Household will help cats accept tight living spaces. We recommend that you also use Convivial House Cat spray for added calming which will also helps if any of your cats aren't using the litter box like they should.

Multi Cat Household has turned formerly aloof kitties into bundles of purring affection. We've even heard stories of cats accepting that big smelly drooling beast, also known as the family dog, so this formula helps with inter-species harmony too! Helps get your cat back to using the litter box when there is fear of other cats or litter box aversion. Many of our customers alternate with Territorial Rescue or Calm and Serene.

Priced for a bottle with a dropper. But some people prefer a mister top so they would be able to spray this formula around the house and on objects. You could also spray it on food or in the water bowl. If you would like a mister top instead of the dropper you can order one for just $1 at the bottom of this page.

Daphne says:
"I may still be the queen of our castle but we four cats get along in perfect friendly feline harmony. You wonít see one drop of cat urine any place other than where itís supposed to be and thatís in the litter box. Fights? Rarely. We all have our space and our peace, but we are family and enjoy each other."
---
Clifford says
"You'll do well to order our behaviorenhancing crystals! They really do elevate effectiveness - my heart bursts with joy knowing that your cats are getting along!"
---
1 fl oz
Calms turf battles and fights. Ends Gender conflicts. Jealousy. Possessive tendencies. Spraying.

$25.95

In Stock

All cats are territorial to a degree. But for some cats territory is everything, and they'll do whatever they must to be top cat and rule the house. Haven't we all thought we heard a cat say "Everything here is mine mine mine!" Being overly territorial can lead to problems such as constant battles for dominance, and frequent fighting. Often those feisty females or brutish boys will use their urine as a weapon to show who's the boss. Or rather who "wants" to be the boss! For some cats if any 4 footed creature comes near The Castle the alarm goes off that it's time to fight and defend their turf which can lead to spraying.

When used in conjunction with Convivial House Cat the effectiveness of our wonderful product is boosted. Many customers alternate Territorial Rescue with Multi Cat Household. When used together both flower essence formulas will assist with litter box aversion or litter box domination which you may observe when one cat tries to prevent the other cats using the box.

Priced for a bottle with a dropper. But some people prefer a mister top so they would be able to spray this formula around the house and on objects. You could also spray it on food or in the water bowl. If you would like a mister top instead of the dropper you can order one for just $1 at the bottom of this page.

Miles says:
"When I moved in I decided that I was the boss and that everything here was MINE MINE MINE. Now Iíve learned to share, to coexist, to be equals and Iíll say this is so much better. Being territorial is exhausting! Iíd much rather chase our Cat Faeries catnip toys and know that we cats are all friends."
---
Madeline says:
"Being wound up with territorialness can't feel good to a cat! I recommend that you also order our crystals which are specifically selected to help curb the tendency for fighting and territory control!"
---
1 fl oz
For Emergencies. Fear. Noise. Anger. Anxiety. Confusion. Nervousness. Trips to the vet. Supports DNA which predisposed a cat to be overly fearful.

$25.95

In Stock

For jittery kitties and fraidy cats and cats who jump at the slightest bump in the night or shutting door. You can easily de-stress your modern house cat very quickly, safely, gently, and effectively. Cats really respond and react to their environment to every situation or activity in their home. To some cats even the slightest change like moving sofa can be devastating. Remodeling or making big changes in the home? Got a loud boyfriend? A new baby? Live with the noise and sounds of the city? This formula will help your cat cope with those stressful situations, and many more. Calm and Serene is also excellent for trips to the vet, any changes to a cat's environment, and general nervousness. Supports any DNA snips which caused the cat to be born to be fearful, easily frightened, overly timid, and who exhibits panic. Remember, cats love to be loved and cherished. Keeping your cat calm has a life extension effect which will add to the beauty and comfort of your home.

Priced for a bottle with a dropper. But some people prefer a mister top so they would be able to spray this formula around the house and on objects. You could also spray it on food or in the water bowl. If you would like a mister top instead of the dropper you can order one for just $1.

I love your flower essences so much! The changes for the better in my cats are dramatic. Thank you Cat Faeries for creating such amazing, easy to use, and safe products for my cats.

Kaylene in Omaha


Clifford says:
"Everything used to scare me! I was not used to being in a house with furniture and busy people. I was nervous, apprehensive, afraid, and very shy. I now know there is nothing to fear or worry about. A trip to the vet Ė a piece of cake. Visitors? Bring them on! Being free of stress and anxiety feels so good. This is like Kitty Yoga In A Bottle! ommmmmm"
---
Madeline says:
"I'm known as Mellow Madeline because not very much phases me! Feed me, pet me, kiss me, give me a soft Cat Faerie bed, and surround me with crystals and I'm a happy mellow girl!"
---
1 fl oz


Stop litter box avoidance and litter box aversion. Get your cat back in the box.

$26.95

In Stock

Most cats who stop using their litter box are experiencing some sort of "litter box aversion." Litter box avoidance is a frustrating and often complex problem afflicting many cats which. Some cats are afraid of their litter box after a bout of a bladder infection, and other catss are afraid of the litter box because another cat chases them out.

If the litter box isn't sparkling clean and in a private location, or it's in a loud location, the cat could turn to carpets, beds, or other surfaces to do their business. You should always use fragrance free litters. You should also remove the hood from the litter boxes. If you are doing all of that already this formula helps your cat get over whatever negative feelings they have towards the litter box. It's a soothing formula which works to abate environmental aversions, inner turmoil, feeling unwanted or unsafe, as well as anxiousness.

This formula comes with a mister top as we feel it's best when sprayed on or around the litter box as well as put in a cat's food and water bowl.

Madeline says:
"We hear from so many people who have cats that have almost an aversion to the litter box. This can happen for many reasons and this formula addresses all of them. Making friends with the litter box will make your cat happier and will put YOU back in control of your home!"
---
---
1 fl oz
Shake off any form of feline depression no matter what the cause is. Be HAPPY!

$25.95

In Stock

Just like people a cat can feel the blues and get depressed. While their emotions and responses are different from ours they are still affected by many factors which can lead to depression and it can manifest as loss of appetite and not grooming. Cats can also be less playful or active but still young and not in pain, they might hiss when they didnít hiss before, they might hide, they might sleep more, they might not use their litter box, or they donít dig and bury. In conjunction with Emotional Sunshine we recommend that you also use Convivial House Cat spray for added mood brightening and calming, and of course it will help to keep your cat using the litter box during this temporary time of depression.

Many of our customers alternate Emotional Sunshine with Calm and Serene. They also find that spending more loving time with the cat helps too! The extra attention works wonders on cats (and people!). During times of heightened depression or emotions that feel "off" we find that using the crystal Amethyst really helps - see our crystals pages.

Priced for a bottle with a dropper. But some people prefer a mister top so they would be able to spray this formula around the house and on objects. You could also spray it on food or in the water bowl. If you would like a mister top instead of the dropper you can order one for just $1.

Madeline says:
"I had been in a home in Northern California and the man of the house would kick me. After me kicked me in the ear which caused my ear drum to burst the lady next door rescued me and took me to a no kill shelter. The pain in my ear was horrible and I sunk into a serious depression which lasted the entire 3 years I was there until I was adopted by Auntie Cat Faerie and Mr. Cat Faerie. I sure wish I had this back at the shelter Ė it would have brightened up my heart and the hearts of the other cats."
---
1 fl oz - comes with sprayer/mister

Any cat can ďplay well with othersĒ

$26.95

In Stock

Do you have a cat whoís report card says ďDoesnít Play Well With OthersĒ Have you witnessed one cat or two being overly aggressive at play time to the point where your other cats donít want to play anymore? If yes, you are not alone! All your cats deserve play time, so we came to their rescue!

Many cats get very wound up at play time, possibly a holdover from when felines needed to hunt to survive with a limited amount of food so chasing away the competition was a matter of life or death. Or they are more territorial about toys than other cats. Or they simply think that they are The Center of the Universe and that no one else matters.

This formula automatically comes with a sprayer/mister as we found itís best to spray it in the air during play time or when you return home from work. You can also spray it in food or water.

Miles says:
"Clifford and I loved being The Toy Boss! But Daphne and Madeline hated it. Now we are less aggressive and Iíve learned that even if someone else plays with a toy that itís ok, the toy knows it belongs to me!"
---
1 fl oz


Bond, trust, acclimate, make new friends, enjoy each other!

$25.95

In Stock

Did your new feline friend come from a shelter or from a situation that may not have been ideal or loving? Is your new fur friend having a hard time adapting to your home for reasons unknown? This remedy helps to build trust and confidence, it let's a cat know this is "home" and it's safe and loving, and friendly! It will help your new cat learn or re-learn how to accept love and affection. If your beloved cat was adopted from a shelter this will help your cat get over that stressful experience and acclimate to you, your home, a new routine, and new family members, including other cats and animals. It will also help your original cats to adjust to and love the new cat.

In addition to putting it food and water spraying it around the house will speed up the process of the new cat feeling at home and comfortable in your home. It will also help the other cats adjust to their new friend.

Priced for a bottle with a dropper. But some people prefer a mister top so they would be able to spray this formula around the house and on objects. You could also spray it on food or in the water bowl. If you would like a mister top instead of the dropper you can order one for just $1 at the bottom of this page. This formula does well being sprayed around the house when you add a new cat.

Clifford says
"I had a really hard time adjusting to life in a loving home after life on the streets. Can you see my clipped ear, the sign of a TNR cat? When I was adopted my loving humans gave me this formula which went into my food and water, as well as on crystals that they placed near my favorite hiding place. Now I'm so at ease, and I'm known as The Big Flirt!"
---
1 fl oz
Support for kidneys and urinary tract, help for renal failure. Support for thyroid.

$25.95

In Stock

We are very proud of this formula. We give it to our own cats every day starting when they are young because weíve seen that itís a great preventative measure. Weíve had cats live to be 20 to 22 and we feel this was a big part of their longevity because it keeps their kidneys and bladders working well. This formula probably won't cure existing renal failure, but customers tell us that their cats really improve. Cats start to eat again, they become more active, their test results improve. We've heard of cats living much longer than projected. Other customers tell us that when they run out of Kidney Kitty that their cats seem to lose energy, but when they re-order their cats perk back up. This formula supports the entire Kidney Meridian, a system Traditional Chinese Medicine also called TCH) the urinary tract and the bladder.

NEW for the year 2020 this beautiful formula also cools a bladder that's prone to Interstitial Cystitis! And let us tell you, an inflamed bladder feels like its on fire and this can lead to a cat not urinating in the litter box. You may have had this disorder yourself or know of someone who has it, interestingly its not just people who get IC, but cats and other animals can too. Interstitial Cystitis is when symptoms seem to indicate a "bladder infection" and when tests show there's no bacteria or crystals present in urine this tells us that its not an infection, but it's Interstitial Cystitis. IC is caused by defects in the lining of the bladder which is an autoimmune disease Stress and certain foods will trigger an episode and cause irritation and pain. As for cat food, do not buy cat food with cranberries. Cranberries are very acidic and can irritate an inflammation prone bladder. As a bonus this formula also gives a bit of support to the thyroid. Cats of any age could really benefit from a few drops in the water bowl every day as prevention. Keep Calm and Catnip On!

Priced for a bottle with a dropper. But some people prefer a mister top so they would be able to spray this formula around the house and on objects. You could also spray it on food or in the water bowl. If you would like a mister top instead of the dropper you can order one for just $1 at the bottom of this page.

Daphne says:
"The original six cats who lived here before us lived to be 18 to 22 years old before they crossed the bridge. Kidney malfunction didnít happen until they were very old. This legendary formula went into their water bowl when they were very young just as it goes into ours now. Prevention my friend is vital! If your cats are already having problems, itís never too late!"
---
Miles says
"When you get either size of Kidney Kitty you can also order crystals! You'll get a Gold Stone heart which helps the body and kidneys to function plus other health enhancing crystals!"
---
1 fl oz
Cats at any age benefit from Thyroid Balance and Support, Diabetes Support, Brain and Cognitive Support, and Body Mobility. Old cats, new tricks!

$25.95

In Stock

As cats age things don't work or feel quite like they used to. A cat's Thyroid can speed up, years of cat food loaded with carbs might lead to Diabetes or spikes in blood sugar, and a cat's mentation and cognitive skills might be slipping. And then there are the new aches and pains and loss of flexibility. A cat can feel sluggish and tire easily. You might notice that it takes longer for the cat to recover from minor traumas or illness. There's nothing worse than feeling old, creaky and slow - no wonder elders of any species are often crabby!

People report rather amazing improvements, some of them are that their cat spent less time on the heating pad, they became social again, appetites returned, they were more playful and active. One person recently said that there was an almost magical spring to the cat's walk! Even cats who are not considered elders brightened up!

NEW FOR 2020! We are pleased to tell you that we have added new essences to this formula for a cat's thyroid! Many cats develop hyperthyroid in their later years. The addition of new essences are intended to balance a potentially sped up thyroid 3hich could make a huge difference in the quality of your cat's life!

Priced for a bottle with a dropper. But some people prefer a mister top so they would be able to spray this formula around the house and on objects. You could also spray it on food or in the water bowl. If you would like a mister top instead of the dropper you can order one for just $1.

Madeline says:
"As the oldest of our feline family I want to remain nimble and quick! I donít want a yucky special diet or to be poked with needles. I want to feel forever a kitten. This formula will keep me feeling youthful as I age gracefully."
---
---
1 fl oz


Helps kitty feel calm and loved when you're away from home.

$25.95

In Stock

Your cat will feel loved, safe, and secure when you are away from home while on vacation or working long hours. When we are gone long hours or days (even with a trusted daily cat sitter) our cats worry about us. They can respond by peeing on something, vomiting, fighting with other cats, and being destructive. This remedy will have the fur kids home alone, calmly and patiently awaiting your safe return. We just canít guarantee that they wonít be ordering mouse with catnip pesto pizzas in your absence. You might like to order a sprayer so you can spray it around the house to help your cats feel secure in the house during your absence.

Priced for a bottle with a dropper. But some people prefer a mister top so they would be able to spray this formula around the house and on objects. You could also spray it on food or in the water bowl. If you would like a mister top instead of the dropper you can order one for just $1 at the bottom of this page.

Daphne says:
"We know that many of you work long hours to bring home the catnip! We know that sometimes you like to travel and hunt for adventure leaving your cats at home, alone. We cats are social creatures and while we do sleep a lot we also get bored or nervous when we donít have you close by. Cat sitters are great but for those hours when we are alone this formula helps us cope with missing you. We do worry about you, you know!"
---
1 fl oz
For: fear of humans, recovery from battery and violence, for when fearful and hiding, jittery nerves, learn to accept love and kindness

$25.95

In Stock

Far too many cats have suffered abuse at the hands of cruel humans. This formula will help a cat get over events from the past. It will help to heal emotional wounds and fade them from memory. This loving formula allows a cat to let go of the past. This formula is also helpful to cats (and their humans) who are currently living in abusive situations. People report back to us that they found the courage to leave and move on from abuse when they gave this formula to their cats (we suspect they took it too). We all deserve love and safety. This formula was formerly called Past Abuse.

Priced for a bottle with a dropper. But some people prefer a mister top so they would be able to spray this formula around the house and on objects. You could also spray it on food or in the water bowl. If you would like a mister top instead of the dropper you can order one for just $1 at the bottom of this page.

Madeline says:
"Abuse stinks! I was abused. I was kicked in the head so hard that it burst my eardrum. It was a man who kicked me so I became afraid of men. Once I found my forever home I wasnít sure about these people Ė this house has a man! I was sad. I was mopey, and kept to myself. I worried that IT would happen again. I seemed to carry a lot of baggage (and it wasnít a suitcase full of cat toys either!) This formula gently erased the memories of bad experiences and now Iím free. And I love and trust my daddy!"
---
1 fl oz
New home or big changes in existing home

$25.95

In Stock

Cats are not fond of change! They don't like moving to a new house, they don't like when their house is being remodeled. They often don't like people coming to visit. Such things as a divorce or a new baby or someone new moving in can cause great stress for a cat. For some cats just moving a chair can cause their world to turn upside down. When that happens cats get nervous and hide, they can urinate where they should not, they can cry, they can stop eating. Change is a constant in our modern world so we need to help our feline friends who do not understand the kinds of changes which do not bother we humans. This formula helps soothe cats, and helps to ease the jitters which they can experience with new beginnings. Remember to always love your cat and try to understand the unique mind of the feline.

If you are preparing to move you might spray this on the moving boxes on a daily basis up to, and after the move. This will make the boxes less threatening to your cats. Spray around the house on other objects too.

Priced for a bottle with a dropper. But this formula would benefit from a mister top so that moving boxes can be sprayed with it as well as spraying it on food and in the water bowl. If you would like a mister top instead of the dropper you can order one for just $1 at the bottom of this page.

Miles says:
"Let me tell you about moving! I was found on the streets of East Palo Alto and Iím here to say those streets were not lined in gold! I ended up in a true no-kill shelter where I was misdiagnosed with FIV and isolated for over a year. Once the error was detected I was moved again into the adoptables area. Next up Ė I got a forever home! My head was spinning! So much change. On top of all that I needed a major dental. But with this formula in my food every day I adapted super fast! Nothing fazes me now!"
---
1 fl oz
Support for bereavement, loss, mourning, sadness, and guilt.

$25.95

In Stock

This formula is for our human friends who have lost a beloved animal friend and who are grieving, feeling guilt and who are feeling depressed. We at Cat Faeries know firsthand how debilitating it can be when an animal friend dies. We have loved and lost so many of them! We strongly recommend ordering our crystals which add comfort and elevate this formula!

When an animal dies or a situation ends thoughts race through our minds and hearts nonstop. ďWas it my fault, did I do enough? I feel so lost and empty. Thereís a huge hole in my heart Ė can it ever mend and feel full again? I miss that little critterís cute antics.Ē Tears flow. Sleep might be elusive or all you want to do is sleep. The other animals in the house seem to be mourning too. Spouse and children are down in the dumps. The mourning is so intense it feels like it will never pass.

Mourning and grief are not limited to the loss of a furry or feathered friend. The death of a human friend, mate, colleague, also tear out of our hearts. This formula is also helpful for the loss of anything: a job, a relationship breakup, bad news of any kind.

This formula is suitable for people and animals.

Dosing for people: take flower essence every 15 minutes or until calm is felt.
Dosing for animals Ė follow the instructions on the handout.

Your bottle automatically comes with a dropper, but if you'd like a mister top so you can spray this formula around the house, or on objects or in your cat's food/water just look up a bit and you'll see where you can add one to your order for just $1 at the bottom of this page.

Miles says:
"The Rainbow Bridge. The ultimate transformation. The next journey. Whatever you call it, when an animal transitions out of their fur suit to parts unknown thereís serious pain in the hearts of those left behind Ė both the human heart and furry heart. Allow this formula to hold your heart, kiss it gently, and be of soothing comfort for the emotions everyone is feeling."
---
Each bottle is 1 fl. oz.
To support a very long life.


$51.90

In Stock

Priced for bottles with a dropper in each. But some people prefer a mister top so they would be able to spray this formula around the house and on objects. You could also spray it on food or in the water bowl. If you would like mister tops instead of the droppers you can order one for just $1 each at the bottom of this page.

Madeline says:
"This duo will keep the kitties in tip top shape through the years!"
---
Each bottle is 1 fl oz
Ideal combination for a litter box using, friendly, harmonious cats

$75.85

In Stock

Your bottles are priced to come with a dropper, but if you'd rather have mister tops so you can spray these formulas around the house, or on objects or in your cat's food/water scroll to the bottom of the list of formulas for cats and you'll see where you can order as many misters as you like, for just $1 each.

Daphne says:
"Donít you want a house full of friendly litter box using cats? Of course you do!"
---
Each bottle is 1 fl oz
This is the perfect combination for a peaceful household

$77.85

In Stock

Your bottles are priced to come with a dropper, but if you'd like mister tops so you can spray these formulas formula around the house, or on objects or in your cat's food/water scroll down and you'll see where you can order as many of them as you wish for $1 each at the bottom of this page. Use Comments to tell us which formulas you want the mister for so we can replace the dropper.

Clifford says:
"A peaceful home is a healthy happy place! A place where all can thrive. Everyone will remark that YOUR cats are wonderful cats!"
---
$1.00

In Stock

Purchase as many misters as you need to accompany your 1 oz bottles of our flower essence formulas for cats. We'll insert them for you! Add as many misters as needed on the check out page. If you only need them for certain formulas use the COMMENTS area on the order form to give us specific instructions, for example: you may only want a mister with one or two flower essences, just give us the formula names and we'll do the rest! Misters are not available for 4 oz bottles.
---
Crystals for Good Health and Good Behavior, an assortment of carefully selected crystals

$25.00

In Stock

Crystals have been proven to boost the effectiveness of Convivial House Cat and our Flower Essence Formulas For Cats. Simply apply a few drops or a spritz of the remedy you've selected to the stones. We give you very detailed directions on how to easily work with them. Soon, you'll know as much about crystals as we do and you'll have healthier and happier cats! And yes, you'll be feeling good too! Everyone loves the good vibrations from our products and our crystals!

These photos are here to show you examples of the quality and beauty of crystals we select when gathering up specimens for your order of Crystals for Good Health and Good Behavior. You won't get all of the crystals which are pictured ~ scroll down a bit to read about our current offering of crystals along with their definitions/descriptions. In addition to the crystals pictured and listed on this page we get new ones all the time in our Crystal Cat Cave and we love to customize so donít hesitate to reach out to us!

This is an example of a very simple grid that you can make with crystals. Instructions come with your order!

Crystals and gem stones were born and formed deep within the layers of of the Earth and thus they hold the vibrations, the elements, the healing electrons, and the history of our shared planet. When they emerge from the depths of their birthplace they bring their love and benefits intended to spark health and joy to those who we were born and formed overground!

Crystals are anxious to assist the people, the plant life, and the animal life which live and walk upon the soil of this planet. Crystals and gemstones came forth to befriend and to help us. They are the perfect accompaniment to support and boost the effectiveness of Convivial House Cat, and our Flower Essence Formulas for Cats, even taking them to higher levels of change and healing because both entities are "living vibrational powerhouses of Earthen love."

We encourage you to work with our carefully gathered crystals to benefit your cats as you see your felines shift in ways you have hoped for and have dreamed about. The good behavior and good health aspects will vibrate throughout you home and will benefit the people and other animals who live there!

Your crystals will come with several pages of handouts. You'll have a sheet with the definitions of the crystals you received. On other handouts we teach you how to cleanse them, energize them, and program them. You will also learn to make a grid which is a powerful formation or arrangement of crystals which you can change as often as you desire. We want you to know everything about crystals that we know!

Have you ordered our crystals in the past? We change up our offerings every few months but if you see that you already have some of the current crystals and are interested in others, or have something specific or special that you want or need, just ask us! You cannot have too many crystals!

LET'S MEET OUR CURRENT OFFERING OF CRYSTALS! Amethyst AAA quality, very rich vibrant purple

Amethyst is known far and wide for protection, purification and Divine connection. This glorious purple stone will assist one in releasing bad behaviors, indulgences or addictions. It holds the same vibration as the Violet Flame which one can call upon for protection from any sort of negativity. It can also purge painful and negative Karmic chords, illness and kinks in the DNA, from the cells and genes Ė we are seeing more and more books and articles discussing how we are not slaves to or bound to our genes and genetic traits. Itís exciting to know that Amethyst can help anyone, animal or human to be free of what was once thought to be fixed, predetermined and unchangeable. Amethyst creates the feeling of being a bubble of Light. Activate your higher mind your bodyís own ability to purify, cleanse, release and regenerate. Amethyst is excellent for brain health, cognition and mentation and the overall function of every system in the body including the kidneys. Scatter Amethyst all around the home or office, but keep them away from direct sunlight which will cause fading.

Angel Aura - a sphere in shimmering pastels

Glistening and shimmering Angel Aura is a product of modern technology when elements such as gold are permanently bonded to quartz which actually amplifies the quartz and takes it in new healing and beneficial directions. The pastel shimmer reminds one of Angels or the wings of an Angel while it invokes a bubble of peace, tranquility and contentment feelings vital for any sort of healing to any of the bodyís systems. Angel Aura enhances deep awareness with connection to the Angelic realm for heightened purification, rest and repose. Angel Aura loves working with other crystals. The gorgeous sphere shape amplifies all of these qualities.

Lapis Lazuli ~ tumbled piece

Oh how that blue color has charmed people for centuries! And donít you love its gold shimmer? This celestial blue is about royalty, honor, vision, spirit, truth and wisdom. Lapis improves friendships and social skills while stimulating compassion and honesty. It provides for good beliefs, perspectives, and motivation. It can alleviate pain and other physical conditions. Lapis Lazuli enhances animal communication for humans and their animal friends! Lapis encourages one to kind to all and to exhibit good behavior and good manners!

Ocean Jasper, heart shape ~

The ultimate quartz stone the manifestation of cooperation, friendship and compassion in groups of people - so imagine what it can do for your multi cat household, the humans in your home, other animals in your home as well as the guests who you invite in. Jaspers of various types are generally found in all over the world, but Ocean Jasper is found only in Madagascar. Madagascar itself is rather meaningful to the properties of this stone: The indigenous people are of a rural and civil society who are strongly rooted in the natural and spirit world, and honor their ancestors, traditions, nature spirits, and sacred sites. Madagascar is considered to be a destination for travelers who want to visit sacred and spiritual sites. While itís called ďOcean JasperĒ it is not from the sea, itís from the land and is mined in only two locations in Madagascar. Ocean Jasper is about as down to Earth of a crystal as it gets because it can charge those who posses them with Earthís healing electrons and vibrations which emanate from the Earthís core and every layer. Among Ocean Jasperís many gifts is that it calms thoughts and emotions which leads to the quashing of over-reactions - ideal such things as a feline hissy fit or a turf war. Ocean Jasper is all about the enjoyment of life so imagine it lifting the veil of negativity and stress. For our aging cats who are beginning to feel creaky, cranky and tired or for the young cats you want to keep healthy and live long this stone encourages regeneration of the cells and organs including the Kidneys. Ocean Jasper loves to work with other crystals including all forms of Quartz, all other Jaspers, and Amethyst. Ocean Jasper comes in countless colors and patterns, some with spots and some with striations. The heart shape of your new Ocean Jasper amplifies all of the qualities mentioned and well as it deeply touches the heart of those who are near it.

Ruby in Green Zoisite, Tumbled piece ~

WOW! That just might be the best word that Cat Faeries can use to sum up the properties and definitions of this rather hard to find and very very very special stone! As one decade ends and another begins we are all about the heart and love, joyfully participating in life, savoring lifeís vitality, and healing, and yes, friendships and cooperation. With Ruby in Green Zoisite the heart opens to alleviate grief, anger, despair and defeat along with the diseases and illnesses that accompany those feelings and bad experiences. This is also an important stone which many feel offsets the negative or harmful aspects of a treatment or medication including chemotherapy or radiation. It is a champion among stones for helping when one is faced with a terminal illness and the transition to death giving one complete support. That said, this precious stone can also activate the bodyís defense healing mechanisms possibly changing the course of what once seemed eminent! Vitality, love and support should never be underestimated and this stone helps by attracting these allies. We love the mix of friendship and service that it provides while helping to cleanse the body and self of negative attachments. Grow. Heal. Enjoy each breath in each moment. Ruby in Zoisite is not ďa cureĒ for anything but it will never fail with giving healing and attracting love.

Rutiliated Quartz - tumbled pieces -

Every pouch of crystals has some of these. Why? We love them passionatly and it's because it is widely understood that all Quartz Crystal is programmable. When Quartz is cleansed, then energized it is ready for programming, happily waiting for us to ask it to be of assistance when we verbally and lovingly state our needs. BUT! When Quartz is Rutilliated, which means it contains gold inclusions that look like needles or fine lines we know that it has special abilities to send your wishes and intentions in amplified and accelerated way! Imagine your wishes zinging and singing through those golden lines as if they were the wires of a telegraph circuit going to their intended destination! Whew! Rutiliated Quartz loves working in harmonious grids or clusters with other crystals. This stone is all about personal transformation and awakening to the higher purpose for any being and on every level from the higher mind, spiritual, to the bodyís systems at the cellular level.

Sodalite, tumbled ~

Lovely peaceful looking royal blue stone with white for calming the heart and mind which allows for clear thinking and decision making ultimately leading to impulsive or aggressive behaviors Ė or the opposite of aggression: depression. Boosts harmony because it calms one's thinking which makes squabbles, disagreements, and arguments easier to work through or donít seem so important. Sodalite helps one to express feelings in a calm rational way because emotions are better balanced. This stone is also very beneficial to the immune system.

Order as many crystal sets as you like - you canít have too many - and for customers who order more than one set we dip into our Crystal Cat Cave so that we can customize for you and make sure that you collect a wide variety of crystals and stones. Do you love particular crystals more than others? Tell us because more are available upon request. For example many people like to have small dishes of their favorites scattered around the house! We have many types of crystals in the Cat Faeries Crystal Cat Cave and we mean it when we urge you to talk to us about your needs. Really, don't be shy! Ask us! We love working with crystals and providing you with your heart's desire!

Daphne says:
"Crystals are beautiful treasures and I think of them as love that came from the deep within the Earth millions of years ago! They will help boost, elevate, and amplify our flower essences and Convivial House Cat. Crystals not only make these products work better but they are pleasing to the senses and add beauty to your home. Cats and people will benefit from their positive energy! You'll also be getting the most benefit from our products as they truly do help!"
---
There are no returns on flower essences.
---
Cat Faeries flower essences are absolutely not meant to interfere with or replace the advice or treatment of your veterinarian or doctor. Keep out of reach of children.
If you have questions which you would like to see answered here please write to us. We want to provide everyone with knowledge and information!