The Ideal Kitty Latrine Area and Litter Box Set Up
People frequently ask us what the ideal litter box is, and the ideal set up for a latrine area that easy for the cats to access, and how to make clean up easy for the person in charge. Making life easy for YOU is always paramount to us!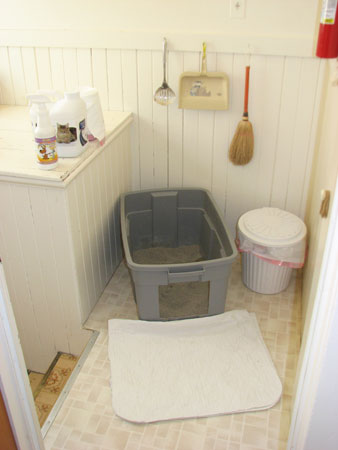 Here youíll see our own litter box which is a Rubbermaid storage box with a hole cut in it for easy access for your cats. Youíll see itís high enough so that very litter will fly out of the box. We love the high walls of this box. When cats age and get stiff or arthritic they canít squat like they once did so they stand in place without squatting and the urine goes straight out and over the edge of a regular cat litter box creating a huge puddle and mess which needs your attention.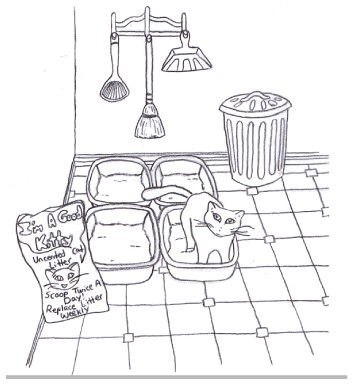 The illustration shows you that you can easily create an area of the house (not basement, garage, or laundry room Ė cats do not like going to those areas) where everything is at your fingertips: bags or boxes of litter, your scooper, a broom and dust pan, garbage bags, a waste basket with a garbage bag inside and a lid to hold in smells until you have time to dump it.