Crystals For Cats - unleash your inner healer!
$24.00

In Stock

Golden Healer quartz crystals are very rare, but we manage to find them, probably because in our hearts we believe in them so much that they find us! They tend to be bright and shiny with sizes that range from an a whisker under an inch to bigger. Some are chubby and some are more narrow - all of them feel nice in the palm of the hand and feel soothing when rubbed between fingers. Our Golden Healers have interesting points which we also love, you'll see that some have a sharp point and others are a smoother, rounder point. We love crystals with a lot of personality to them with interesting groves, rainbows, markings and points and we think that you will too!

Golden Healers come in many shades of gold. Ours have a bright shiny wash of gold or yellow. Occasionally they are vivid deep yellows, golds and even sometimes slightly orange. With these little healing powerhouses color and size do not matter. Healers collect them and treasure them, and we'd like you to be among this special clan of compassionate healers.

We'll select just the right crystal specifically for you. When you order you'll see an area on the online order form called COMMENTS. Use it to give us your name or the names of your cats. We'll hold the name in our heart and look at our collection of golden healers. When a feeling of warmth is felt in the heart or in the palm of the hand we know we have been guided to just the right crystals for you.

---

These rare crystals are only found in one or two mines where there are deposits of Iron Hydrate which they absorb and its this that gives them the unique and healing coloration. The colors range from a barely there yellow or gold cast to deeper markings. On some specimens you'll see Iron Hydrate embedded on the outside of the crystal. Coloration does not matter! Nor does size. Every Golden Healer is very powerful and will benefit your life in countless ways.

Golden Healers are themselves master healers, therefore they will help you master your own healing work. They will help you access The Gold Ray. They will help you transform, transmute, grow, change, evolve, find and feel joy, blossom and flourish. They assist you when you need to dissolve negativity and release it. Access your own Christ consciousness, Angelic and Devic energies, and the Goddess within. Golden Healers have a very high vibration or frequency and are very well suited to amplifying your work with our flower essence.

In Vedic astrology this color represents the planet Jupiter, itís day of the week is Thursday which would be the ideal day to do your crystal healing. Thursday is a positive day, a day to wear yellows and oranges, to feel grateful and to be productive, and to take care of our health and the health of those we love. This is a good time to expand your consciousness and to learn something new or elevate what you already know, and crystal work will compliment this perfectly. Gazing upon a golden healer for 3 minutes on a Thursday will soothe the eyes.

Welcome to a special clan of healers who work with Golden Healers. Join us in doing your version of healing work which will benefit those you love and care for, and the member of your unique community.

Be sure to check out our Golden Healer Grab Bags too! Can a healer have too many crystals? HA HA! No!

Clifford says:
"There is a small dish near our food bowls with a few crystals on it. Our Maid puts a few drops of Multi Cat Household or Convivial House Cat on them every day or a few times a week."
---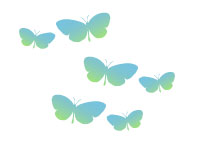 For those of you who adore crystals and who have a lot of people and animals in need of your loving help to get well or to become happier Cat Faeries has just what you need to be of assistance, while keeping your budget in mind! We've put 5 Golden Healers of smaller sizes and shapes into grab bags. These Golden Healers may be small but they pack a powerhouse of healing and love. Their petite size is ideal for placing on a sunny windowsill, or tuck one in your wallet or a compartment in your purse, you could lay one on the soil of a house plant, they can go in your car's drink holder, they can go in a pretty dish on your night table, they would make an attractive pile on your coffee table. The sizes of these golden beauties go from tiny chubbies, to longer and narrow. Your ziplock grab bag will contain 5 Golden Healers in various sizes!
---
$75.00
In Stock

This unique crystal has a lot of that healing cloudy masculine energy that's so helpful to us, with the point being very clear and very female and it's very golden with rainbows!
---
$85.00
In Stock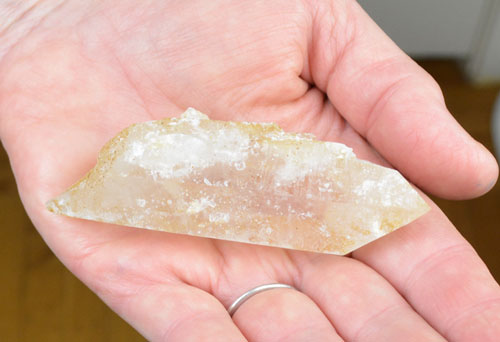 This lovely is 3 inches long. A nice one for holding in the hand. It has a lot of barnacles which are the nice "babies" that cling to some of our favorite crystals.
---
These very special quartz crystals are water clear and are the top of the line (AAA grade). They are about range from an inch and a half long to almost 3 inches and have a nice point. Your water clear quartz crystal might have a rainbow and very unique striations inside or a bit of shimmery frost on top. Yours might even have a baby crystal or two hitching ride on top!. We selected these with a very discerning eye and with attention to the purest cleanest vibration.

To get yours we'll select crystals just for you. When you order you'll see the COMMENTS area on the online order form. Type in your name or the names of your cats so that we can select just the right crystal for you. Here's how we do it: we hold the name or names in our heart then look at the collection and when a warmth if felt we know we've found the right crystal. Some people like to get one crystal for each cat or family member.

Madeline says:
"We have several of our cat beds scattered around the house. Each bed has a crystal in it. I think it makes nap time even dreamier!"
---
Powerful and beautiful quartz crystals boost the effectiveness of flower essences and of Convivial House Cat. All you need to do is place a few drops of either (or both) products on your crystal and it will beam the vibration to where you've directed it. So simple! Detailed instruction will be found in your handout for Convivial House Cat and our flower essence formulas.
We select the finest, most vibrant, most water clear Quartz crystal from Arkansas. These are what most healers collect and reach for. They are among the finest in the world. We select only the top AAA grade because you and your cat deserve and demand the best.
Our crystal come in a variety of sizes each with its own unique personality. Their vibration is clean and you'll sense the purity the moment your hold yours. Like we said earlier most are water clear but some are a bit cloudy. There are actually healers who prefer to have both water clear, and cloudy. All are beneficial and beautiful.
---
Why Crystals?
Crystals are an important element to your work with flower essences and Convivial House Cat as they will intensify the vibration of both. Convivial House Cat and our flower essences crafted just for cats are a crucial step in getting your cats back in the litter box, harmonizing your multi cat household and helping your cats live long healthy happy lives. You can use a crystal to beam or transfer the vibration of your flower essences and Convivial House Cat to your cat or a friend. Beaming flower essences off a crystal is as effective as taking them orally or putting them in food/water or applying to fur/skin.
Many years ago a group of flower essence visionaries, including our founder and cat behaviorist, found that "beaming" flower essences off a crystal was just as effective as taking them orally, putting them in water and food, or when anointed onto skin/fur. This was a major discovery which is still changing lives every day!
Best of all, beaming the energy of Convivial House Cat, a single flower essence, or a flower essence formula is really easy, with loving intention in mind, anyone can do it!
---
Why Cat Faeries crystals?


Just like everything else we carry we are obsessively fussy about quality. We offer you only the best of the best. The crystals we stock are a mix of water clear and bright, or water clear and cloudy. People who practice various healing arts often like their crystals a little bit cloudy for grounding themselves or the patient.
Our crystals vary in size. Note the photo above is an old one and does not necessarily reflect what we currently stock. Some of the points are perfect, and others are not. Does color and shape affect a crystal's ability to help? Does size matter? Not at all! In fact some of us like our crystals with a lot of personality and quirks in their appearance. It's not about looks and beauty, it's about energy, vibration and the power to heal or change something for the better.
When you order your crystals we ask that you give us the name of the person or cat the crystal is for so that we can select a crystal just for you. While my hand hovers over our collection of crystals, the name of the intended is said aloud. When that beautiful and unmistakable warmth is felt in the cave of my heart I know that's YOUR crystal.
---
Crystals work with flower essences
Using crystals and Convivial House Cat or our flower essences together will catapult you to a new level of healing and bonding with your cats! It's so easy: place the crystal on a dish (or get creative!). The dish can be places anywhere you like. Some examples are: a table top, an altar, the mantel, any sleeping area or bed, next to the cat's food bowl, in the cat's water bowl, or any other favorite or any special place of your choosing.
Three drops of a flower essence or Convivial House Cat on a crystal three times a day, with loving intention in your heart, is an excellent way to transmit the energy of the essences to yourself or a favorite animal friend. You can also transmit the energy to a friend who's far away. Most of our customers do it all - they'll beam the essences off a crystal, they'll anoint, they'll add them to water. More detail in the handout you'll get with your order!
---
Lot's of great uses for crystals
For cats and other animal friends you can also place a crystal in their water bowl to keep water pure, fresh and beneficial. We recommend that every day you change the water every day, rinse off the crystal, then put it back in. After a time the crystal may grow cloudy - that's normal and tells us that its done is job of keeping the water pure, you can now bury it in your garden so that it may return to the earth from where it came.
3 drops of flower essences 3 times a day on a crystal will "beam" the energy
place a crystal in your cat's water bowl for purification
place crystals on cat beds, under pillows, on table tops
place crystals around the house for harmony
place crystals around the house as a reminder of the beauty in your heart and in the world
hold one in your hand while stroking your cats for a relaxing experience for all
for psychic work, energy healing, and overall wellness
we suggest that when your crystals arrive soak them in salty water for 8 hours to clear them of old energies, and to make them yours. You may repeat this after any project you've used your crystals for
---
Something fun!
Our Prius mechanic, Carolyn Coquillette, owner of Luscious Garage, has been known to tape crystals under the hood of client's hybrids to keep the vibrations of driving positive for both car and driver.
---
What Customers Say About Our Crystals
---
Always needing more Convivial House Cat. Our once feral girl Lizzie still has some trust issues . Love the crystals we've gotten from you too.

Alayna
---
Love the crystal! It gave me chills. :)And the order arrived so quickly! In the 1980ís I prepared mother essences for Pegasus Products in Boulder, Colorado from plants I grew in my backyard. Love the vibes of your products. I put a few drops of each flower essence in water tonight. We have been having incidents of litter box bullying and It has gotten better, but I was out of Territorial Rescue. Tomorrow I will work with the beautiful Golden Healer crystal and Convivial House Cat.

Many blessings,
Alayna

---
I already have a couple of crystals, but am looking forward to the Golden Healer crystal for my precious cat named Chirp. We've been battling renal failure, and the crystals, Kitty Kidney flower essence, filtered water, acupressure, and PRAYER are dropping her creatine levels dramatically! She looks so much like one of your cats -- beautiful Blue! Thank you as always!

E.L.G.