Crystals For Cats! Curated Sets and Individual Stones!
OLD ROCKS! NEW TRICKS! ANCIENT STONES FOR MODERN CATS! Crystals Promote Good Health and Good Behavior and compliment our products

$28.95

In Stock

Crystals have been proven to boost the effectiveness of Convivial House Cat and our Flower Essence Formulas For Cats. Simply apply a few drops or a spritz of the remedy you've selected to the stones. The frequencies of the crystals and the vibration of the products go well together, they work together. We give you very detailed directions on how to easily work with them. Soon, you'll know as much about crystals as we do and you'll have healthier and happier cats! And yes, you'll be feeling good too! Everyone loves the good vibrations from our products and our crystals!

This set goes well with Convivial House Cat, Multi Cat Household, Territorial Rescue, Calm and Serene, My New Home, I Love My Litter Box, DNA Support, From Bully to Buddy, Elder Support, Kidney Kitty, Limbic System Re-wire, Emotional Sunshine, Home Alone Kitty, Moves and Changes

LET'S MEET THE CRYSTALS FOR GOOD HEALTH AND GOOD BEHAVIOR! They are Earthen beauties have frequencies which correct behaviors, support kidneys and boost health, ease the aging process, and assist with anything your need to assist your cat. Smokey Quartz The Official Crystal of Cat Faeries

These very special crystals are reverently mined in California by a personal friend of Cat Faeries. California Smokey Quartz embodies everything that Cat Faeries stands for and believes in. They represent our purpose and what we want for you and for your cats. They are a glimpse into what is in our heats. Being in the presence of these wonderful and beautiful crystals your cat or you can easily move through difficult or painful experiences including past traumas. Have you heard the expression "be better, not bitter" which is an expression we like a lot. Smokey Quartz represents a bright future with a light heart, and with negative energies and negative past experiences neutralized or purged! Anxiety, fear, stress, sadness dissipates! Invokes calm and serenity, brings on positive thoughts and good behavior, lifts depression and moodiness. For health it is said to help fight cancer cells. It reduces swelling and improves circulation and speeds up healing. Strengthens kidneys and other major organs, and systems. It's good for the endocrine system: pancreas (Diabetes) spleen and adrenals. It also helps balance the thyroid's function at the correct Goldilocks level – not too fast, nor too slow. Smokey Quartz helps detoxify the body and removes negative energy. It's especially helpful for eliminating radiation and electromagnetic smog. Because of who mined them and that they were mined with joy and respect for the Earth these crystals are full of extra love and specialness!

Amethyst point in shades of purple

Amethyst is known far and wide for protection, purification and connection to the Divine. Healers and mystics have used it for centuries. This glorious purple stone will assist one in releasing bad behaviors, indulgences, patterns, bad choices, habits or addictions. It holds the same vibration as the Violet Flame which one can call upon for protection from any sort of negativity. Amethyst can also purge painful and negative Karmic chords, undesirable family histories, illness and kinks in the DNA and in the cells and genes – we are seeing more and more books and articles discussing how we are not bound to our genes and genetic traits. This beloved stone can help shift a formerly unloved, mistreated, homeless, feral cat to accept a new and rich life. There may be genetic pre-dispositions or inherited traits as well as an array of bad experiences that a cat may hold, and Amethyst can help a cat be set free of what may seem unchangeable. It is so very exciting to know that Amethyst can help anyone, animal or human to be free of what was once thought to be fixed, predetermined and unchangeable. Amethyst creates the feeling of being in a bubble of Light. Activate your higher mind your body's own ability to purify, cleanse, release and regenerate. Amethyst is excellent for brain health, cognition and mentation and the overall function of every system in the body including the kidneys. Scatter Amethyst all around the home or office but keep them away from direct sunlight which will cause fading.

Rose Quartz: Point AND a crystal ball/sphere

Rose Quartz with its shades of gentle pink is a stone of the heart filling one with Unconditional Love. It carries the soft feminine energy of compassion and peace, tenderness and healing, nourishment, and comfort. It speaks directly to the Heart and while dissolving emotional wounds, fears and resentments – ideal when feline housemates are not getting along. It circulates a Divine loving energy throughout the entire aura. It can re-awaken the heart to its own innate love for all. Rose quartz helps one feel a deep sense of contentment. One can truly give and receive love from others. As early as 600 BC Rose Quartz was given as a love and friendship token. It was believed to attract love and romance, as well as to create a closer bond with family and friends of any species. It helps one to connect within groups and communities. Even if one did not have an ideal mother, or was missing their biological mother, or in the case of a cat taken from mother too soon this stone reminds one that Mother Earth Holds You, She Carries You and Loves You. Every cat craves love and gives love to their human caregivers. Every cat will benefit from the loving energy of Rose Quartz for good behavior and good health!

Citrine

Bright and sunshiny Citrine carries a warm vibration that cannot hold any form of negativity! It's hard to feel the blahs with Citrine around! Cats find that being cheerful and friendly is easy when Citrine is incorporated with flower essences or Convivial House Cat. This very same vibration and sunny outlook of the stone promotes the healthy function of metabolism, pancreas, spleen, liver and the organs of elimination which would also include the skin. Citrine has the ability to repel and transmute illnesses involving the thyroid, kidneys, bladder, eyes and thymus making it a helpful crystal for those conditions as well as Diabetes. It's an anti-aging, uplifting and organ supportive!

Tangerine Quartz

Tangerine Quartz Crystal from Uruguay is held in high esteem among healers and crystal workers as a master healer for any condition and it's an excellent receptor for programming. It can bring the entire body back into balance and boost energy. Its lovely orange is the color of joy and friendship. Older cats and people who might be cranky can remember their zest for life, the excitement of new adventures and ideas! Learn to give and take with love and compassion. It can bring anyone inspiration and motivation. It is said that it can correct cellular memory to bring a body into balance. It can stimulate the immune system, remove free radicals and assist with exhaustion or depletion. It inspires love, compassion, curiosity, and play as it is a happy stone that helps stimulates creative energies. A truly amazing aspect of this lovely is that Tangerine Quartz cannot hold negativity so it never needs cleansing (unless it's dusty) and it's very uplifting and allows for a state of peace. It promotes tranquility during the day and deep repose during sleep. It seems to say "Limitations? What are those? Happiness and love are ours!"

Tasha says:
"We understand both cats and crystals so we gather crystals that are of the most benefit and service to you and your cats. When you order them you'll get our handouts which teach you everything you need to know about using crystals for great results with our products such as Convivial House Cat and all of our Flower Essence Formulas for Cats. Our crystals increase the effectiveness of Cat Faeries unique formulations!"
---
Pictured below are two examples of how you can create formations or grids with crystals and our products. The first photo shows one of our Flower Essences for Cats resting in a copper basket. A grid can be any size you like and it can incorporate any crystals or stones that you like. Do you have specific needs and interest in crystals? We are happy to help. The Cat Faeries Crystal Cat Cave has crystals put aside for special requests Use the COMMENTS area on the order form, or email us at catfaeries@catfaeries.com. We are here for you!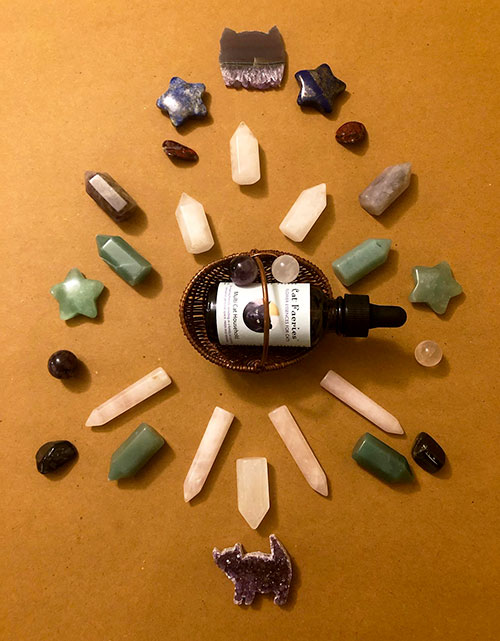 Crystals and gem stones were born and formed deep within the layers of of the Earth and thus they hold the vibrations, the elements, the healing electrons, and the history of our shared planet. When they emerge from the depths of their birthplace they bring their love and benefits intended to spark health and joy to those who we were born and formed overground!
Crystals are anxious to assist the people, the plant life, and the animal life which live and walk upon the soil of this planet. Crystals and gemstones came forth to befriend and to help us. They are the perfect accompaniment to support and boost the effectiveness of Convivial House Cat, and our Flower Essence Formulas for Cats, even taking them to higher levels of change and healing because both entities are "living vibrational powerhouses of Earthen love."
We encourage you to work with our carefully gathered crystals to benefit your cats as you see your felines shift in ways you have hoped for and have dreamed about. The good behavior and good health aspects will vibrate throughout you home and will benefit the people and other animals who live there!
Your crystals will come with several pages of handouts including the definitions of the crystals you received. We will teach you how to cleanse them, energize them, and program them. You will also learn to make a grid which is a powerful formation or arrangement of crystals which you can change as often as you desire. We want you to know everything about crystals that we know!
Have you ordered our crystals in the past? We change up our offerings every few months but if you see that you already have some of the current crystals and are interested in others, or have something specific or special that you want or need, just ask us! You cannot have too many crystals!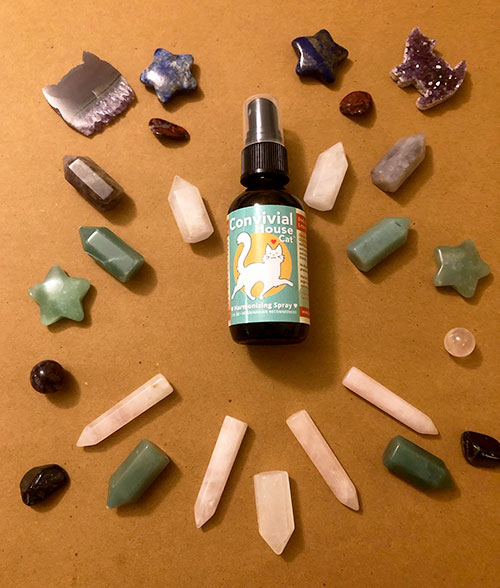 We thought you'd like to read what our customers have to say!
---
Thank you so very much for helping me get additional crystals to go with the set that I ordered. They are perfect and I love rearranging them when the mood strikes! This is funny - my cats put their noses on them! It's so easy for me to put drops of Multi Cat Household and Kidney Kitty on them. I see improvement every day.

Bethany D.
---
I was one of those people who thought crystals were weird, pretty, but weird. I thought I'd never want any and I certainly didn't know what to do with them if I had them. But we love your products so much and your viewpoint about cats that I thought I'd take a leap of faith and order some - that's how much I trust Cat Faeries. A few days after I placed them on a dish I realized that I had to eat my words. I really like these crazy things! Better, and evidence that I've not lost my mind, my cats are sitting near the coffee table where I keep them and are not hissing at each other. I just ordered two more sets!

Libby E.
---
I love the crystals and so does my daughter and her cranky older cat! Sami the older cat has some problems with her kidneys and we already have Kidney Kitty and use it daily. Now I'm putting a few drops on the crystals which I put in a tea cup saucer and it's near the window that Sami likes the most. I actually saw Sami trot to her food bowl the other day when normally she walks slowly. Thank you for getting my order to me so fast and for using paper packaging that I can recycle.

Elsa P.
---
These are the cats who need crystals: Lance is old and his bones and arthritis gives him some issues, My sisters cats Max and Miles have stomach issues, My friends cat Mango is diabetic and a lazy groomer, Popeye is young but almost completely blind. I have a bunch that I just want to keep safe on their outdoor journeys, and to keep a positive vibe in their sleeping spaces throughout my yard and in their sunporch. Thanks for asking! Love you guys! Happy Spring!

Stephanie S.
---
We're loving the Convivial Housecat spray! Since Mody (my sprayer) is responding well to it, I may venture into one of your flower essences and/or crystals because Mody seems to spray when he sees or hears another cat on the outside. It doesn't help that our "cat room" is a big sunroom with glass on 3 sides where my boys can see the birds, squirrels, lizards, etc. Unfortunately Mody sees other cats outside of his sunroom and sprays the doors down quite often. But we're encouraged with your products....thanks so much, and I'll definitely keep you posted.

Sharon

---
Recently got the Multi Cat essence and Cat Crystals and the kitties and I are hooked!!! Thank you SO much for everything, you've helped make it possible for all the boys to live harmoniously together! Thank you!!! Xo

Halie
---