Flower Essences For Cats by Cat Faeries
Gifts with Certain Purchases! When you see the cat with the pink bow next to a product you get a FREE gift!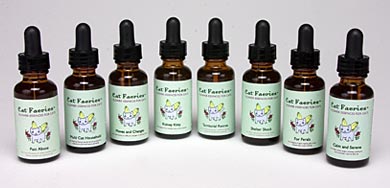 Here are natural solutions for litter box avoidance or litter box aversion, as well as many other problems or challenges for the modern house cat, including stress and territory clashes. They are called flower essences (or flower remedies) which are similar to Homeopathy; both are vibrational or energy medicine. (see Articles of Interest, upper right corner) With our flower essence formulas created just for cats, you will see negative situations or attitudes become positive, harmonious, and healthful. Cats respond very well to flower essences, we have customers who tell us their cats practically "ask" for them. Cats want to give you their love, but sometimes there are emotions or situations getting in the way of keeping your cat from being loving and happy. Let's change that! Let's help to make cats happy! Happy cats are litter box using cats!
Click on the scenario that applies to you.
Our formulas for cats get praise from customers, veterinarians, and animal shelters. Cat Faeries own unique formulas are sensitively crafted for the modern housecat to address their complex lives, as well as boost the success of Feliway by helping cats to get along, and getting your cat back into the litter box. They are easy to use, just put a few drops into the cat's food and water. Complete instructions on usage and formulating will be included with your order.
All flower essence bottles have a tamper evident seal.
There are no returns on flower essences.

---
Cat Faeries flower essences are absolutely not meant to interfere with or replace the advice or treatment of your veterinarian or doctor. Keep out of reach of children.
If you have questions which you would like to see answered here please write to us. We want to provide everyone with knowledge and information!