Home
/
Flower Essences For Cats
Moves and Changes, A Flower Essence Formula for Cats "Change is good . . . repeat: Change is good!"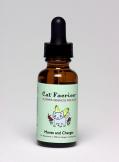 1 fl oz

Moving to a New Home
New Furniture or Re-arranging
New baby or new housemates
Home remodeling /lir>
People coming and going
Works well with Convivial House Cat and other flower essence formulas



$25.95
In Stock

Cats are not fond of change! They don't like moving to a new house, they don't like when their house is being remodeled. They often don't like people coming to visit. Such things as a divorce or a new baby or someone new moving in can cause great stress for a cat. For some cats just moving a chair can cause their world to turn upside down. When that happens cats get nervous and hide, they can urinate where they should not, they can cry, they can stop eating. Change is a constant in our modern world so we need to help our feline friends who do not understand the kinds of changes which do not bother we humans. This formula helps soothe cats, and helps to ease the jitters which they can experience with new beginnings. Remember to always love your cat and try to understand the unique mind of the feline.
If you are preparing to move you might spray this on the moving boxes on a daily basis up to, and after the move. This will make the boxes less threatening to your cats. Spray around the house on other objects too.
Comes with a dropper. But if you'd like a mister top to spray this formula on food and water, or on objects around the house, go to the bottom of this page and order one for just $1. Fits our 1oz bottles.