Keeping Cats Out of Our Gardens
We've been asked literally thousands of times for ways to humanely keep the neighbor's cats or ferals out of flower and vegetable beds.  And as you know from reading our website the number one trigger for cats peeing outside the box is the presence of cats in your yard.
We tried all kinds of battery operated gizmos to keep cats out of our rose garden and vegetable beds including the ones which shoot water when the cat comes within range.  Some worked pretty well, and others failed.  Some worked for awhile then they malfunctioned. We would never use toxic "pet repellents" And we certainly wouldn't use cayenne pepper because if it gets into the cat's eyes they could gauge their eyes out trying to rub at the burning pain.
A very astute Biodynamic gardener told us about something which has worked beautifully for us.  We are avid organic gardeners and obviously we are devoted to cats, but frankly we were getting fed up with finding cat poop among the lettuces. Her suggestion sounded good, so we tried it.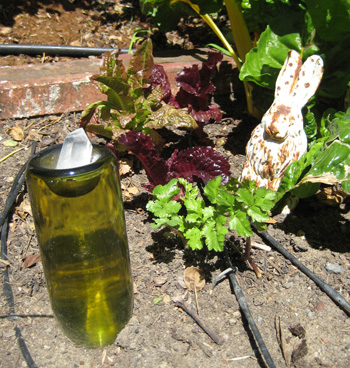 It's an old country Italian trick where you fill glass bottles with water then place them around your garden. Why does it work? The water filled bottles shimmer in the sunlight. This shimmer is something which does not exist in nature and the cat doesn't understand it or like it, so the cat leaves right away.
We experimented with several different bottles until we decided that the pale green color of white wine bottles give the most shimmer in sunlight. Soak off the label. Fill the bottle with water and replace the cap. We think turning them upside down with the neck in the dirt looks sort of arty and whimsical!
For added shimmer and cosmic fun we've put a big crystal in the dimple of the bottom of some of the bottles.
We know that this remedy may sound crazy, but really, it works. It's been 5 years now and we've not found a single "feline calling card" in with the roses or the vegetables.  Other than the wine, it's practically a free solution!  This is the most economical, humane, and non toxic feline garden abatement we know of.
Shortly after we posted this tip we heard from a long time friend of Cat Faeries who is an Italian countess. She wrote to tell us that you see water filled wine bottles in gardens all over Italy. Many are near or under key plants. If the plants are particularly precious you might see several bottles grouped together. Thank you Contessa dearest for adding this for us!