Home
/
Flower Essences For Cats
Kidney Kitty Flower Essences for Cats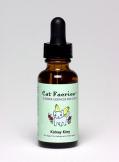 1 fl oz
Support for kidneys and urinary tract, help for renal failure. Support for thyroid.
$25.95
In Stock

We are very proud of this formula. We give it to our own cats every day starting when they are young because we've seen that it's a great preventative measure. We've had cats live to be 20 to 22 and we feel this was a big part of their longevity because it keeps their kidneys and bladders working well. This formula probably won't cure existing renal failure, but customers tell us that their cats really improve. Cats start to eat again, they become more active, their test results improve. We've heard of cats living much longer than projected. Other customers tell us that when they run out of Kidney Kitty that their cats seem to lose energy, but when they re-order their cats perk back up. This formula supports the entire Kidney Meridian, a system Traditional Chinese Medicine also called TCH) the urinary tract and the bladder.
NEW for the year 2020 this beautiful formula also cools a bladder that's prone to Interstitial Cystitis! And let us tell you, an inflamed bladder feels like its on fire and this can lead to a cat not urinating in the litter box. You may have had this disorder yourself or know of someone who has it, interestingly its not just people who get IC, but cats and other animals can too. Interstitial Cystitis is when symptoms seem to indicate a "bladder infection" and when tests show there's no bacteria or crystals present in urine this tells us that its not an infection, but it's Interstitial Cystitis. IC is caused by defects in the lining of the bladder which is an autoimmune disease Stress and certain foods will trigger an episode and cause irritation and pain. As for cat food, do not buy cat food with cranberries. Cranberries are very acidic and can irritate an inflammation prone bladder. As a bonus this formula also gives a bit of support to the thyroid. Cats of any age could really benefit from a few drops in the water bowl every day as prevention. Keep Calm and Catnip On!
Priced for a bottle with a dropper. But some people prefer a mister top so they would be able to spray this formula around the house and on objects. You could also spray it on food or in the water bowl. If you would like a mister top instead of the dropper you can order one for just $1 at the bottom of this page.