Home
/
Flower Essences For Cats
Kidney Kitty Flower Essences for Cats CATNIP SEEDS GIFT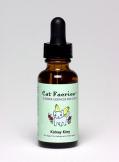 1 fl oz
Support for kidneys and urinary tract, help for renal failure. Support for thyroid.


You get a FREE GIFT!
Catnip Seeds
Retail Value: 3
$25.95
In Stock

We are very proud of this formula. We give it to our own cats every day starting when they are young because we've seen that it's a great preventative measure. We've had cats live to be 20 to 22 and we feel this was a big part of their longevity because it keeps their kidneys and bladders working well. This formula probably won't cure existing renal failure, but customers tell us that their cats really improve. Cats start to eat again, they become more active, their test results improve. We've heard of cats living much longer than projected. Other customers tell us that when they run out of Kidney Kitty that their cats seem to lose energy, but when they re-order their cats perk back up. Kidneys are rather unforgiving when our habits and actions compromise or hurt them. The liver can forgive and forget if changes are made but those kidneys are not so kind! Kidneys respond best to prevention but if decline is detected start immediately with corrections to diet and treatment to slow down the progression.
This formula supports the entire Kidney Meridian, a system Traditional Chinese Medicine also called TCH) the urinary tract and the bladder including that it can cool a bladder that's prone to Interstitial Cystitis! And let us tell you, an inflamed bladder feels like its on fire and this can lead to a cat not urinating in the litter box. You may have had this disorder yourself or know of someone who has it, interestingly its not just people who get IC, but cats and other animals can too. Interstitial Cystitis is when symptoms seem to indicate a "bladder infection" and when tests show there's no bacteria or crystals present in urine this tells us that its not an infection, but it's Interstitial Cystitis. This condition is caused by defects in the lining of the bladder which is an autoimmune disease. Stress and certain foods will trigger an episode and cause irritation and pain. As for cat food, do not buy cat food with cranberries. Cranberries are very acidic and can irritate an inflammation prone bladder. Cats of any age could really benefit from a few drops in the water bowl every day as prevention. Keep Calm and Catnip On!
We have a special assortment of crystals for Kidney Kitty! Our crystal loving customers have asked for this so here it is - a crystal set just for Kidney Kitty which is sold separately and you can place it in your cart when you order Kidney Kitty. In this bag there will be a small Amethyst cluster of the highest gemmy AAA quality. You can't go wrong with Amethyst because its properties and gifts to us are nearly countless, including the ability to speed up recovery from illness, correct out of balance emotions, gives protection to psychic attack and transmute any negative or hateful thoughts, it's calming and strengthens the central nervous system, smooths cranky moods, dispels anger, fear, rage, anxiety, sadness and grief. Amethyst will chase away bad dreams, regenerates cells and tissues to stimulate cleansing thereby helpful for any illness. It can improve digestion and cool down the urinary track. Spiritually it opens up intuition and psychic abilities. And of course, those gorgeous shades of purple are the colors of royalty and what's more regal and royal than a cat?
In addition to the Amethyst you'll receive a half inch Angel Aura Quartz sphere. Angel Aura is clear quartz that had the element gold permanently bonded to it which amplifies the benefits of quartz. The sphere shape further amplifies the properties of quartz. The pale and pastel shimmer reminds one of the wings of an Angel. Connect to the Angelic realm and enhance peace, health, contentment, purification and restoration to the body's systems. Also, its beautiful: like a soap bubble or orb. You'll also get a rutiliated quartz. We are in love with rutiles for their ability to be programmed with your wishes and desires. Lapsis Lazuli and Moss Agate with their lengthy histories of health boosting abilities are also included. A list of your crystals and their definitions come with your order along with instructions for use - you'll a lot and then you'll know as much as we do!
The crystals are sold separately (see the button to add them to your order). When we see that you ordered Kidney Kitty and the accompanying crystals you'll receive the pieces that we've discussed here and not the crystals for Good Health and Good Behavior.
Priced for a bottle with a dropper. But some people prefer a mister top so they would be able to spray this formula around the house and on objects. You could also spray it on food or in the water bowl. If you would like a mister top instead of the dropper you can order one for just $1 at the bottom of this page.