Home
/
Flower Essences For Cats
Home Alone Kitty, A Flower Essence Formula for Cats "When my people are away I'm no longer bored!"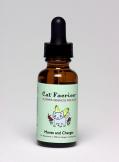 1 fl oz

Cats feel safe and loved when you are away
Ease Boredom
Stop Abandonment fears
For the Anxiety, depression, anger associated with being home alone, not from past abuse
The cat thinks you are out hunting and could be harmed by bigger animals - allay those fears!
Works well with Calm and Serene



$25.95
In Stock

Your cat will feel loved, safe, and secure when you are away from home while on vacation or working long hours. When we are gone long hours or days (even with a trusted daily cat sitter) our cats worry about us. They can respond by peeing on something, vomiting, fighting with other cats, and being destructive. This remedy will have the fur kids home alone, calmly and patiently awaiting your safe return. We just canít guarantee that they wonít be ordering mouse with catnip pesto pizzas in your absence. You might like to order a sprayer so you can spray it around the house to help your cats feel secure in the house during your absence.
Comes with a dropper. But if you'd like a mister top to spray this formula on food and water, or on objects around the house, go to the bottom of this page and order one for just $1. Fits our 1oz bottles.