On Sale

This 4 ounce bottle makes refilling your 1 ounce bottle easy! The bottle comes with a cap. But if you would like a mister to fit this size bottle you may order one for just $1.
---
NEW!

$77.74

In Stock

Save almost 30% off the single refill price!

Attention Comfort Zone diffuser users! Good news! Weíve got 6 refills in one handy box AND one great price! Rather than send you 6 refills in individual boxes how would you like one nice box containing 6 refills? Yes? We thought so! The box makes storage neat and tidy, less paper to recycle, and the box is one you can use to mail something to a friend when itís empty! And did we tell you that itís a great price?

Madeline says:
"You will love this handy box of 6 refills for your Comfort Zone diffuser. No nasty plastic clamshell to remove! The refills come in a handy cardboard box for neat and tidy storage. The box is so high quality you can reuse it in many ways including mailing a present to a friend or store some of our legendary cat toys!"
---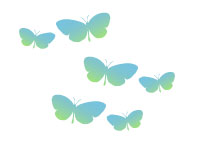 Love crystals but are on a budget, or just canít get enough of them? Introducing grab bags of a mix of Golden Healers and quartz crystals ideal for placing on a windowsill, putting in your wallet, or putting in a house plant. They are teeny-tiny crystals ranging from ľ inch to almost an inch, and youíll get 5 in a baggie. Value is around $60.
---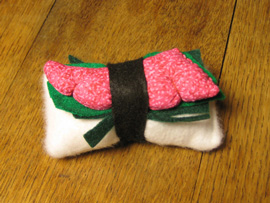 Your kitty will be saying "arigatou gozaimasu" (Japanese for "thank you very much") when you get the Shrimp Sushi catnip toy from Cat Faeries. About four inches long and filled with Cat Faeries' super-potent catnip. Made in the US by our talented toy sushi chef.
Fabric: Velour, felt, and smooth cotton.
---