On Sale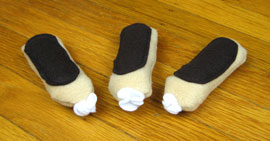 Doesn't a catnip chocolate éclair make your tail twitch and your paws tremble? We thought so!
Our new éclairs are another oblong shape for cats who adore bunny-kicking their toys. Our new éclairs are soft and plush with our notorious catnip inside. Notice the felt "whipped cream" oozing out of one end? Deliciously divine!
Calories – 0
Good times - Off the charts!
About 5 inches long
FREE SHIPPING WHEN YOU ORDER ONLY CAT TOYS!
---