On Sale
FREE Cat Faeries 2016 Pocket Calendar With Any Order! You Just Have To Ask!
Some of us still adore and use an old school calendar book to write down our appointments etc! Your cat faerie can barely operate her smart phone and would be completely lost without her calendar book.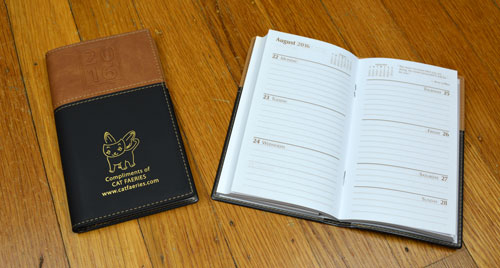 Get one calendar FREE with any order, while supplies last. BUT! You must ask for it as we know that not everyone will want one. When you check out use the COMMENTS and type in: "2016 calendar, please" and we'll include one.
---
NEW!
$77.74
In Stock

Save almost 30% off the single refill price!
Attention Comfort Zone diffuser users! Good news! We've got 6 refills in one handy box AND one great price! Rather than send you 6 refills in individual boxes how would you like one nice box containing 6 refills? Yes? We thought so! The box makes storage neat and tidy, less paper to recycle, and the box is one you can use to mail something to a friend when it's empty! And did we tell you that it's a great price?
---


Do you have a bunch of deserving cats in your home? They'll love getting 12 new toys. Or do you have lot's of friends with cats? This collection contains enough toys for every cat and cat lover on your gift giving list! People love receiving useful gifts - and people love receiving a gift for their cat! WIN WIN!

When you order you have two options: 1) you can allow us to select from the cutest of the cute and mix up sizes and patterns, 2) or you can use COMMENTS on the order form to tell us what you'd like. A lot of people will select a few favorites and then tell us to have fun picking out surprises!


---