Legendary Cat Toys

Dear Cats and Kittens, This is your Auntie Cat Faerie here to send you love and to tell you that our catnip cat toys are unlike anything you've ever played with or have ever before. Our catnip is so strong it's practically illegal! You will not find these adorable toys anywhere else! They are Cat Faeries exclusives!
When cats aren't sleeping or eating they love to play, insisting on our legendary cat toys. Our cat toys have legions of feline fans who come back for any new toys or any limited edition toys. So many people write to me to say that they've never seen their cats so playful and full of happiness.
Our toy shapes are exciting to cats - we know what cats like. Several times a year we'll dream up new shapes to keep it exciting and fresh. Some of our toys are seasonal.
Will this be a gift? Put your friend's name and address in Ship To. On the order form you'll see COMMENTS which is where you can tell us that this is a gift. You can also include a typed greeting which we will transfer to a card or note paper - this is a free service because we are flattered that you trust us to gift your friends!
Each of our catnip toys contains at least 2 tablespoons of our notoriously strong, ethically harvested, beyond organic catnip! The happy cat says " Let the fun begin!"
NOTE FOR HOLIDAY/DECEMBER ORDERS - THE CAT TOYS FLY OUT OF HERE QUICKLY THIS TIME OF YEAR AND OCCASIONALLY WE DON'T HAVE ENOUGH TIME TO MARK SOMETHING AS OUT OF STOCK - WE MAY NEED TO MAKE A SUBSTITUTION AND WILL TRY TO MAKE IT AS SIMILAR TO WHAT YOU ORDERED AS POSSIBLE. APOLOGIES FOR ANY DISAPPOINTMENT!
---
Maggie Smith's brilliant Harry Potter character ~ Professor Minerva McGonagall shape shifts back and forth from human/witchy-poo form to a cat! We can't guarantee that YOUR cat can accomplish this feat of magic while playing with our witch's hat but kitty will certainly fly through the air in pursuit of a black Catnip Witch's hat! P.S. Isn't Maggie Smith brilliant in every character she embodies?

"Yum Yum, Professor McGonagall was so tasty that all that's left is her hat!" One of our customers sent this darling photo of her cat with her catnip witch's hat and we just had to share it with you! For some cats, every day is a Harry Potter book or movie, Halloween!

Fabric: Felt.
---
Dear Cats, we are giddy and happy to present for your indoor hunting pleasure - our very own catnip Chinchilla! It's in a super soft and realistic feeling faux fur that's luscious and plush, and will tempt cats of all ages to play and romp! These cuddly little puff balls of fun are in shades of gray, and are sure to delight cats for hours, days, and years! Did we say how velvety soft this fabric is? People will wish we could ship them a coat made from the same fabric!

Customer Natalie who is a clothing designer says: "Swoon! I'm a total fabric freak and I'm here to say that the photo and description does not even come close to how dreamy these catnip chinchillas feel!"

Fabric: a plush soft fake fur

Daphne says:
"Who's the most plush to the touch? Me or our catnip chinchilla? It's a toss up!"
---
Stalking the wild asparagus can be an indoor activity for all cats. Our catnip as-purr-agus toys is a whopping 12 inches long! (give or take, since they are hand made there can be variations in length) This is our longest toy ideal for cats who love bunny kicking. They'll love wrestling with something nearly as long as they are.

Raw foods expert Tamera tells us: "I'm a raw foods chef and a raw shaved asparagus salad is my way of saying hello to Spring! My cats love long toys, the longer the better so this one makes me smile and makes them go crazy with bunny kicking action!"

Fabric: Smooth cotton with felt tips.

Madeline says:
"I'm a large sized cat who likes her toys in extremes - either really small to carry around in my mouth or extra long for kicking fun!"
---
| | |
| --- | --- |
| We love to up-cycle and these wands feature colorful vintage 1960's feather boas which were destined to be land fill. We've crafted 5 inch (give or take) wands with about the same amount in inches of irresistible feather boa to dazzle cats into doing The Catnip Fandango! Assorted cotton prints and assorted boa colors. | |
---
No matter how you pronounce the name of those juicy Summertime nightshades (toe-may-toe or toe-mah-toe) your cat will love the shape and color. And whether you care if tomatoes are a vegetable or a fruit, they make for a saucy good time for any cat.

Customer Catie has this to say: "I love tomatoes, they make me very happy, and seeing my cats playing with this catnip filled version makes me even happier!

Fabric: Velour.

Miles says
"People get all loopy every Summer when tomatoes re-appear at the farmer's market. But I get our catnip filled tomatoes year round!"
---
Mothra has took over the cat toy universe as the most popular and beloved catnip toy for the holiday season!

You don't need to be a fan of Mothra, the 1961 cult sci fan film, to love our newest toy. Mothra joins our Legendary Cat Toys family of feline fun and festivities! Mothra's wing span is about 8 inches and the center of her "body" is the same faux fur as the beloved catnip Chinchillas which appeals to most cats in its furry realism but it's faux! Mothra is blue on one side and green on the other and her antenna in a pretty satin cord. Godzilla not included.

We wanted to share with you a bit of Mothra's cinematic history: "In the Godzilla movies of the 1960's Mothra was one of the most powerful psychics in the Toho universe. She had the ability to use this power benevolently, to communicate with humans, or defensively, to destroy her enemies." Sounds like a cat toy you'll want in your own universe!

Soft velour-ish fabric, plush faux fur in the center
---
Bright, plush, and vibrant blue blueberries are irresistible to cats who love smaller and round toys to bat and chase. The bright blue color makes us people dream of juicy summer blueberry treats!

Our customer Barbara tells us: "I love this color and my cats love batting them around the house, thank you Cat Faeries for providing my fur-kids hours of fun!

Fabric: Soft velour.

Clifford Say:
"I'm a handsome and lively blue who loves blue toys. They match my fur and compliment my eyes!"
---
2 catnip hearts with playful ribbons

$17.96

In Stock

Celebrate Valentine's Day and your love for your cats year round with a set of 2 hearts. They will surely delight every cat no matter what month it is. Each heart has strands of ribbon to make this an interactive toy if you desire. Cats are more than happy to play with their heart by themselves. Each heart toy contains 3 tablespoons of our notorious catnip inside plus fiber-fill to give the hearts a good firm shape. This is how to say "I love you so much Kitty!" The prints vary, usually hearts and swirls or pink leopard print.

A customer in New Hampshire did something very beautiful: "Dear Cat Faeries, do you remember when I emailed you and told you that my cat loving sister was being honored with a luncheon. I asked if you could make 50 of these catnip hearts with ribbons so that one could go on each attendees' plate. My sister was nearly speechless and her friends and co-workers more than made up for it with praise! Thank you so very much, I'll never forget your kindness, and speed for getting them to me at the last minute."

Fabric: Smooth cotton fabric with satin ribbons.

Miles says:
"You might not know but I'm quite a romantic lovey boy! I love everyone!"
---
Fresh from Mr. McGregor's carrot patch! Our Catnip filled carrots are sure to make any bunny-kicking cat very happy. They are just the right length to seize with front paws and kick with hind legs. Bunny kicking toys keep cats limber and young! Even older cats can become kittenish again! Prints range in colors and patterns and they are always full of whimsy with colors and designs not found in the carrot patch!

Customer Vivienne says: "Thank you for my order of 5 carrots. The colors and prints are SO MUCH fun!"

Fabric: Varies from smooth cotton to velour. The "tops" are felt.

Daphne says
It was my idea to offer you joyful cats carrots in crazy colors and prints that are not found at the farmer's market! In nature carrots come a wide variety of colors, not just orange, and that gave us our inspiration to have fun with prints and patterns!
---
The wizards of Hogwarts gave us the inspiration to create an icicle-shaped enchanted wand. A cosmic blue pattern adds to the playtime charm and whimsy. The wand is about 8 inches long. The wizard's wand and the as-purr-agus are our longest toys. Cats love bunny kicking with them!

Toni is a librarian and professional children's story-teller whosays: "The kids at my school LOVE Harry Potter as do I. When I saw this toy I finally had something Harry Potter-ish to bring home to my cats! They love the shape and I love the whimsical colors!"

Fabric: Smooth cotton.

Daphne says:
"I dream of the day that when I shake this wand food magically appears in my food bowl! "
---
---
Are you a kitty in a pickle and can't decide what toy to play with next? How about a plush velvety and very tactile pickle to tickle your fancy! Scrumptious green with a cute little stem.

Bobbi told us: "My son won't eat anything that's green! I kid you not! When I bought 2 of these for his cat and he saw how much fun they were having he's now eating "a few green things!" I have hopes that he'll eat more. Maybe his cat needs a green chili pepper too!"

Fabric: Exceptionally soft velour.

Miles says:
"One of my many nick-names is "Pickles!"
---
No matter what the weather is cats in every climate adore a catnip ice cream cone to chase and bunny-kick! Zero calories and a ton of fun! We have a lot of fun mixing up the colors and prints of the ice cream scoop - you'll never know what wonderment we've created for you!

Tasha wonders: "How do you guys keep thinking up such great new toy shapes? You crack me up and my cats love your toys so much. These ice cream cones are the best!"

Fabric: Smooth cotton.

Miles says:
"One guess what my favorite flavor is? Orange swirl! But any flavor of these cool toys will make me happy!"
---
Miles says:
"I that catnip filled yolks feels egg-cellent under my chin when I rest upon it!"
---
Ay Carumba! Spicy good times await your cat with these great chili pepper shaped toys. They come in the 2 most popular chili pepper colors: green and red. The yellow is something we have only once in a blue moon. If you'd like to get both colors order two peppers and in COMMENTS tell us that you want one of each to create a playtime catnip gumbo that all cats will love. Ole'!

Customer Libby says: "I'm known for my salsas, I'm always coming up with new recipes and when I saw these toys I knew that my cats would love to play with a catnip filled version of my favorite vegetable."

Fabric: Soft velour, occasionally smooth cotton.

Miles says:
"In New Mexico when you order and have a choice of two salsas, green or red, the locals say "Christmas" which means they'll take one of each. Or two of our chilis and we'll give you Christmas! One of each!
---
Our catnip corn cob is wildly popular, and it has been delighting cats for many years.

Our customer Liz says: "Growing up in the mid-west and playing in the corn field was a delightful to have fun as kid. When I toss a few of these out to my cats for their fun it brings me back to very happy times.

Fabric: Cotton solid or subtle print, the "ears" are soft velour.

Clifford says
I'm not sure what I like best, the soft velour "ears" or that tantalizing tubular shape! I know - its both, plus the catnip inside!
---
Ahoy cats - it's time to head for the high dive and have a swim party with the fishies. You'll love their fluttering tails on our smiley faced jewel tone goldfish. They'll swim into the hearts of your cats giving them an ocean of fun and joy. And no one gets wet! We have named this goldfish toy after Tish The Fish who was the oldest living goldfish on record - here is his story:

Tish the goldfish was the world's oldest goldfish ever recorded at 43 years. Tish was won at a funfair in 1956 by a British boy named Peter. Peter also won another goldfish named Tosh. For 19 years both fish lived a harmonious life with Peter, who was no longer a boy, but a full grown man. When Peter got married he passed on both fish to his parents. At age 19 Tosh died, which is an extremely long life for a captive gold fish. Shortly before his death he became ill. The Guinness Book of World Records were satisfied and confirmed Tish as the oldest goldfish ever recorded in the world. Peter's parents who cared for Tish claim that the fish survived for so long because of its diet and sunlight. They said that he was never over fed and they placed him in the sun daily. While it's possible that this led to his long life, they may have unwittingly aided in his longevity by providing a clean environment for him. As is often the case, goldfish will succumb to poor water quality within a decade. Most people will be unaware of the problem, but will notice the fins of the fish begin to recede, and look more pale than usual. As food and other biological waste breaks down, it creates a nitrates. These nitrates are toxic to all fish and will eventually lead to death if not treated by changing part of the water on a regular basis, and cleaning the filter. That's why it's important not to over feed them. The food will not be consumed and will only rot in the tank.

A customer near the Great Lakes told us: "My kids love to fish, and they love our cats - this is the perfect gift for my kids to give to their furry friends!"

Fabric: Soft velour.

Daphne says:
"I am one of those cats who LOVES water! I do! After my Maid's shower it's my turn. She steps out and I step in, I sit down, and lick the water off the walls! And yes, I've been known to bring a Tish Fish in with me!"
---
Hello Cats! Doesn't a catnip chocolate éclair make your tail twitch and your paws tremble? We thought so!

Our éclairs are another oblong shape for cats who adore bunny-kicking their toys. The chocolate éclairs are soft and plush with our notorious catnip inside. Notice the felt "whipped cream" oozing out of one end? Deliciously divine! Zero calories! No carbs! Gluten free!

Jaymey is a customer and also a baker. He says: "I've been a professional pastry chef for many years in and around Boston. When I saw these I knew that my 3 furry boys needed them!"

Fabric: Soft Velour with felted "whipped cream".

Calories – 0

Good times - Off the charts!

About 5 inches long

Madeline says
"Calorie free! Gluten free! It all sets me free to have a sweet time chasing and bunny kicking this no-carb feline treat!"
---
---
Come on kitties it's time to: Play with your vegetables! Indulge in zero calories desserts in the form of catnippy ice cream cones, chocolate eclairs, and festive fruits! Make friends with hamsters and gold fish! Fly after Godzilla's friend Mothra! Bunny kick corn cobs, pickles, and magic wands! HA HA! Even though cats rarely do as they are told they cannot resist our catnip toys which contain our "only we have it" legendary catnip! To delight your cats and to keep them youthful by running and playing we've got a great grab bag (our surprise!) containing 5 of our "you can't find em anywhere else" catnip toys. Our toys will inspire cats of all ages to have healthy romps around the house playing chase and pounce! When you order our grab bag and we'll select an assortment of 8 toys. Until the mail man comes you won't know what the cat faerie waved her wand over and selected for you! Surprises are FUN! That said, if you have your heart set on a particular toy or two that you'd like in the assortment please use COMMENTS on the check out page and tell us - we'll try to obey you, unlike your cats!

Grace from Houston says: "A few for my cats and a few for my sister's cats! I was brought up to share and I love doing it with the cats of my sister or my friends!"

Clifford says:
"We love love and love selecting an assortment of toys for you! And of course if you have a few preferences, ask us!"
---
---
---
---
---
---
---
---
About Our Catnip
Our catnip is so strong, it's practically illegal! Kidding aside, our special catnip comes from our secret region of the US where soil and weather conditions produce a catnip which has the highest levels of Nepetalactone in the world. Nepetalactone is the active ingredient that cats are attracted to. We've even had this catnip laboratory tested to verify its strength.,/p>
We have heard from many customers who tell us that before introducing their cat to Cat Faeries toys the cat didn't respond to catnip. Did you know that about 20% of all cats didn't get the "catnip gene?" Many of those cats respond to our catnip which we are very proud of.

About Our Toys
Our cat toys are designed and made in the US. Most cat toys in stores come from China which means that in order to clear Customs they have been fumigated on the ship just as any other soft goods,are like clothing and bedding. Fumigation means those toys which cats chew and lick are loaded with cancer causing chemicals and pesticides. We find this appalling as we do not approve the use of poison, and we certainly do not want our precious cats chewing on toys impregnated with poison.
We also hear that Chinese Catnip was grown with herbicides and pesticides. Cat Faeries only uses our exclusive Catnip which is safe, potent, grown on hallowed US soil. The catnip is free of toxins and chemicals. Our Catnip has been ethically wildcrafted.

About Our Toy Makers
Our Cat toys are designed and made by unique and highly creative multi-talented artisans. They are cat loving and kind hearted individuals who live and create right here in the US. Each artist shares Cat Faeries' passion for quality, American manufacturing, and cuteness. Our artists are so pleased to know that Cat Faeries' customers and cats love their efforts and the great toys. We thank you for buying your cat's toys from Cat Faeries.

About Our Happy Customers
We get oodles of letters from customers who tell us that their cats go absolutely loopy and bonkers over our Cat Faeries Catnip toys. We enjoy hearing from our customers and we love getting photos of cats at play with our toys! These photos are always a total riot and they mean so much to us!
When we wake up in the morning, we awaken with the knowledge that there are thousands of cats across the land happily playing with our cat toys!
Cat Faeries own Toy Test Team, who are our resident cats, have approved every design, every toy, the catnip we use, and every artist we work with. We work only with highly creative people who share our love of cats and our devoted to good health and a healthy safe planet.
For health reasons there are no returns on cat toys.
---
What Customers Say About Our Cat Toys
---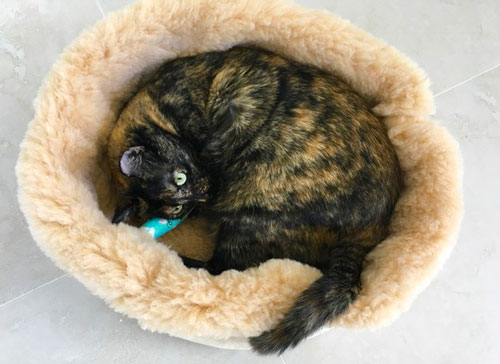 ---
I absolutely LOVE your products and so do my children - they especially love the long catnip toys - I will be with you for as long as you are in service.

Thank you
---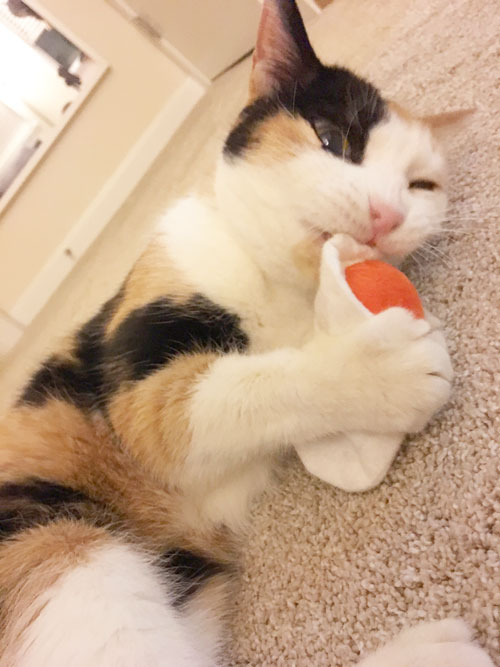 I couldn't let calico month go by without sending in Juno. She turned 16 this month, and she's my favorite bossy old lady. (Pictured here with one of her favorite Cat Faeries toys (a catnip fried egg)!)

Suzanne
---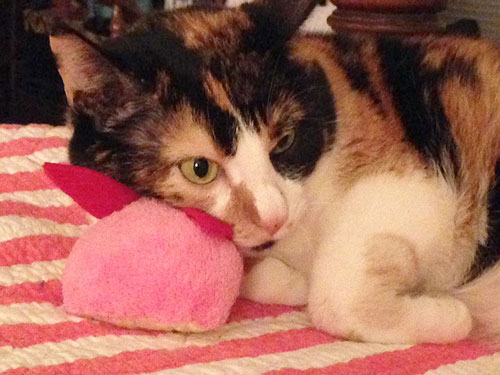 Molly and her catnip bunny! She's eight years old, loves to cuddle, hide under blankets, and catch lizards.

Mary
---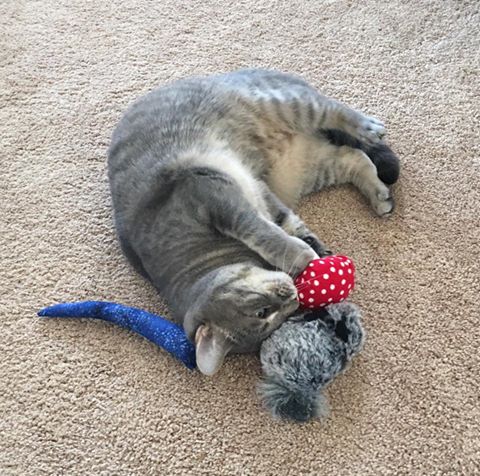 Chessie and her Christmas cat toys!

Mary
---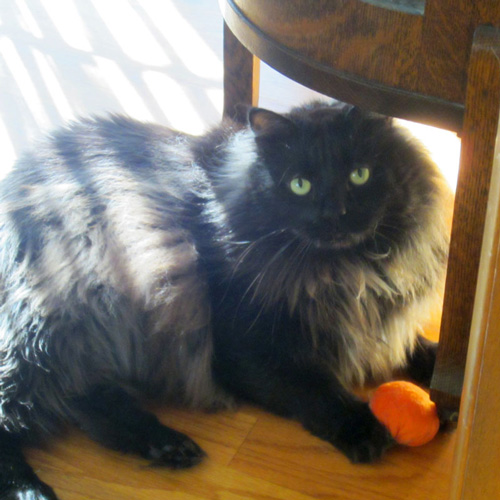 Here is Fudge with his favorite Cat Faeries catnip pumpkin. They all play with this great toy, and it is still holding up well after a couple of years. When I don't see the pumpkin for a while, I know it's gone under the furniture somewhere, and it's time to get the grabber tool out and retrieve their toy stash. Fudge is about 8 years old now, a rescue who was an amazing addition to our household about 5 years ago. He and his buddy Herbie (a long-haired cow kitty) create a lot of cat thunder here, and a cloud of tumblefur every day. Happy Halloween to all the black kitties out there!

Mary
---