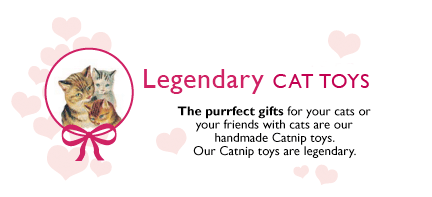 Dear Playful Kitties and Their Adoring Caregivers,
Any cat would love and cherish the gift of an assortment of our much loved and popular toys. Cat Faeries cat toys are legendary in the hearts and paws of cats nationwide. Our toys have legions of feline fans; practically a cult following! The catnip inside is like no other, and you can't fool cats, they want only the best, and we'll give it to them!
To keep things exciting, our collection of toys changes all the time ~ we hunt for unique fabrics with great colors and patterns, and we often have limited editions. Therefore, Cat Faeries will hand select a colorful assortment of toys just for you based on the adorable toys we currently have. This could include mice, carrots, corn cobs, chili peppers, mushrooms, tacos, sushi pieces, poached eggs, fried chicken legs, pears, pine cones, hamsters, strawberries, raspberries and other magical mystical shapes from our creative toy making elves. Our toys are sure to enchant your cat.
Note to Vegans - the Mock Mice are made from suede and leather so if you don't want these toys in your gift set kindly tell us in COMMENTS on the order form).
All selections for the gift sets are subject to stock on hand (or paw). However, if you make a special request we will do our best to accommodate you.
---
Take a peek at some of our legendary and adorable Catnip Toys:
Chili peppers, carrots, corn on the cob, mice, magic mushrooms, sushi pieces, pine cones, and strawberries are among the great bounty of catnip toys from Cat Faeries. We let our toy making elves have fun creating anything they want for your cat's pleasure, therefore the shapes and colors change all the time.
Your cat will enjoy bunny kicking, chasing, tossing, rolling and stalking. Each of these toys contain our super potent catnip, except the Mock Mouse toy.
You can buy the Surprise Play-Time Grab Bag, Sweet Mini Feline Fantasy Gift Set, Super Play Time Feline Fantasy Gift Set, or the Ultimate Feline Fantasy Gift Set. The photo above is a sampling of some of our amazing cat toys. Because our selection changes, please allow us to choose for you!
Is this a gift? Put your friend's name and address in Ship To. Use COMMENTS to tell us it's a gift and if you want us to include a FREE gift card tell us what you'd like the message to say! We love selecting cat toy gifts!
---
New from Cat Faeries - Catnip Bunnies!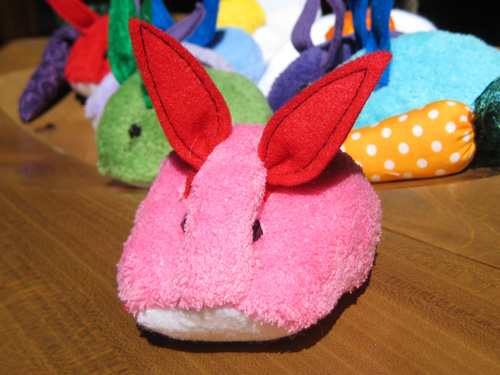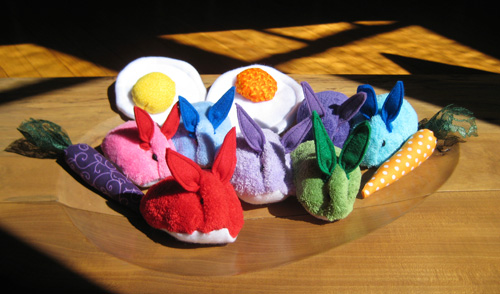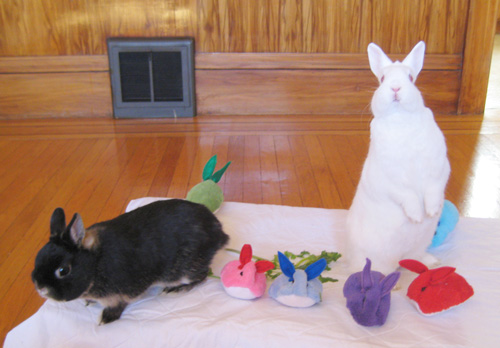 Our little couple Lili (white bunny) and Winston (handsome bunny) are excited about their new catnip bunny friends!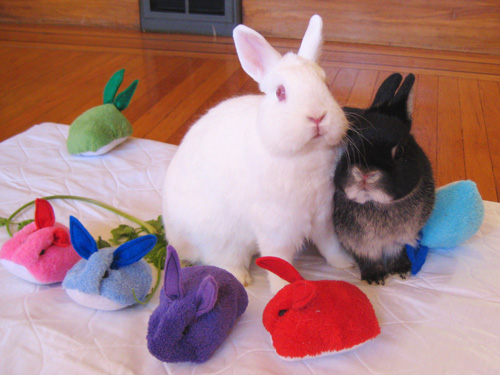 It's a snuggly bunny party!
---
About Our Catnip
Our catnip is so strong, it's practically illegal! Kidding aside, our special catnip comes from our secret region of the US where soil and weather conditions produce a catnip which has the highest levels of Nepetalactone in the world. Nepetalactone is the active ingredient that cats are attracted to. We've had this catnip laboratory tested to verify its strength. There are some cats who never responded to catnip in the past but respond to OUR catnip! Did you know that about 20% of all cats didn't get the "catnip gene?" Many of those cats respond to our catnip.

About Our Toys
Our cat toys are designed and made in the US. Most cat toys come from China and in order to clear Customs they have been fumigated on the ship just like all soft goods, like clothing and bedding. Fumigation means those toys which cats chew and lick are loaded with pesticides. We find this appalling as we do not approve the use of poison and do not want cats chewing on toys covered with poison. We also hear that the Catnip in the Chinese cat toys contain were grown with herbicides and pesticides! Cat Faeries only uses our exclusive Catnip which is safe, potent, grown on hallowed US soil, and is free of toxins and chemicals. It's also ethically wildcrafted.

About Our Toy Makers
Our Cat toys are designed and made by unique and highly creative multi-talented artisans. They are cat loving and kind hearted individuals who live and work right here in the US. Each artist shares Cat Faeries' passion for quality, American manufacturing, and cuteness. Our artists are so pleased to know that Cat Faeries' customers and cats love their efforts and the great toys. We thank you for buying your cat's toys from Cat Faeries.

About Our Happy Customers
We get oodles of letters from customers who tell us that their cats go absolutely loopy and bonkers over our Cat Faeries Catnip toys. We enjoy hearing from our customers and we love getting photos of cats at play with our toys! These photos are always a total riot and they mean so much to us!
When we wake up in the morning, we awaken with the knowledge that there are thousands of cats across the land happily playing with our cat toys!
Cat Faeries own Toy Test Team,which are our resident cats, have approved every design and every artist we work with. And of course they've approved of every toy!
What Our Customers Say About Our Cat Toys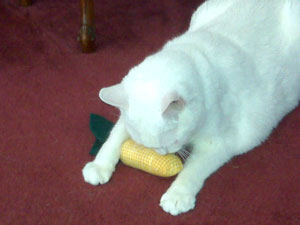 Hey!

Sorry it took me so long to send this to you. I attached pictures of my Fellas, Casper and Marshmellow, going crazy for your corn toy! They thank you very much. By the way, they just celebrated what we believe is their 12th birthday (we got them as adults from the shelter so we don't know for sure). That corn is keeping them young and spunky!

THANK YOU!!! You really are a Cat Faerie!

Hugs, Judy
August 2009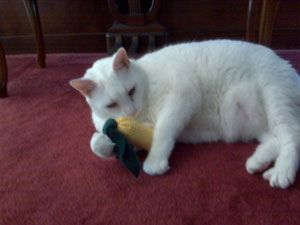 ---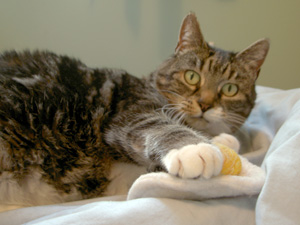 My cat Masha loves the Cat Faeries catnip toys, even though she's indifferent to most "regular" catnip. For whatever reason, the fried egg is her favorite...as you can see in this photo.

Laurel in Boston
June 2009
---
Your toys are the only toys one of my cats will play with. He hasn't really played in a long time and its a joy to see him enjoying your toys so much. The only reason I bought your toys was because you sent a free one with an order. He loved it so much, and to see him play again made my day. Like i said, I dont have much money, single mom, trying to send one to college, and the other close behind, but I will definately invest in only your toys from now on. Worth every penny to see them loving them. Thanks for making my cat play again :)

Theresa
May 2009
---
For health reasons there are no returns on cat toys.