Legendary Cat Toys

Dear Cats and Kittens, This is your Auntie Cat Faerie here to send you love and to tell you that our catnip cat toys are unlike anything you've ever played with or have ever before. Our catnip is so strong it's practically illegal! You will not find these adorable toys anywhere else! They are Cat Faeries exclusives!
When cats aren't sleeping or eating they love to play, insisting on our legendary cat toys. Our cat toys have legions of feline fans who come back for any new toys or any limited edition toys. So many people write to me to say that they've never seen their cats so playful and full of happiness.
Our toy shapes are exciting to cats - we know what cats like. Several times a year we'll dream up new shapes to keep it exciting and fresh. Some of our toys are seasonal.
Will this be a gift? Put your friend's name and address in Ship To. On the order form you'll see COMMENTS which is where you can tell us that this is a gift. You can also include a typed greeting which we will transfer to a card or note paper - this is a free service because we are flattered that you trust us to gift your friends!
Each of our catnip toys contains at least 2 tablespoons of our notoriously strong, ethically harvested, beyond organic catnip! The happy cat says " Let the fun begin!"
---
About Our Catnip
Our catnip is so strong, it's practically illegal! Kidding aside, our special catnip comes from our secret region of the US where soil and weather conditions produce a catnip which has the highest levels of Nepetalactone in the world. Nepetalactone is the active ingredient that cats are attracted to. We've even had this catnip laboratory tested to verify its strength.,/p>
We have heard from many customers who tell us that before introducing their cat to Cat Faeries toys the cat didn't respond to catnip. Did you know that about 20% of all cats didn't get the "catnip gene?" Many of those cats respond to our catnip which we are very proud of.

About Our Toys
Our cat toys are designed and made in the US. Most cat toys in stores come from China which means that in order to clear Customs they have been fumigated on the ship just as any other soft goods,are like clothing and bedding. Fumigation means those toys which cats chew and lick are loaded with cancer causing chemicals and pesticides. We find this appalling as we do not approve the use of poison, and we certainly do not want our precious cats chewing on toys impregnated with poison.
We also hear that Chinese Catnip was grown with herbicides and pesticides. Cat Faeries only uses our exclusive Catnip which is safe, potent, grown on hallowed US soil. The catnip is free of toxins and chemicals. Our Catnip has been ethically wildcrafted.

About Our Toy Makers
Our Cat toys are designed and made by unique and highly creative multi-talented artisans. They are cat loving and kind hearted individuals who live and create right here in the US. Each artist shares Cat Faeries' passion for quality, American manufacturing, and cuteness. Our artists are so pleased to know that Cat Faeries' customers and cats love their efforts and the great toys. We thank you for buying your cat's toys from Cat Faeries.

About Our Happy Customers
We get oodles of letters from customers who tell us that their cats go absolutely loopy and bonkers over our Cat Faeries Catnip toys. We enjoy hearing from our customers and we love getting photos of cats at play with our toys! These photos are always a total riot and they mean so much to us!
When we wake up in the morning, we awaken with the knowledge that there are thousands of cats across the land happily playing with our cat toys!
Cat Faeries own Toy Test Team, who are our resident cats, have approved every design, every toy, the catnip we use, and every artist we work with. We work only with highly creative people who share our love of cats and our devoted to good health and a healthy safe planet.
For health reasons there are no returns on cat toys.
---
What Customers Say About Our Cat Toys
---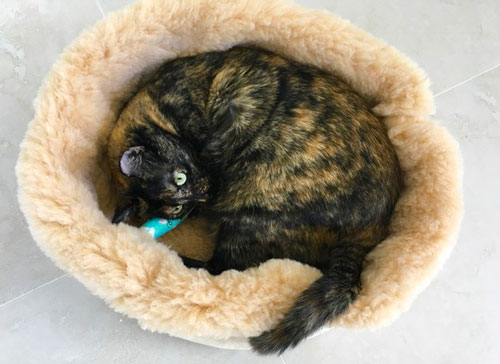 ---
I absolutely LOVE your products and so do my children - they especially love the long catnip toys - I will be with you for as long as you are in service.

Thank you
---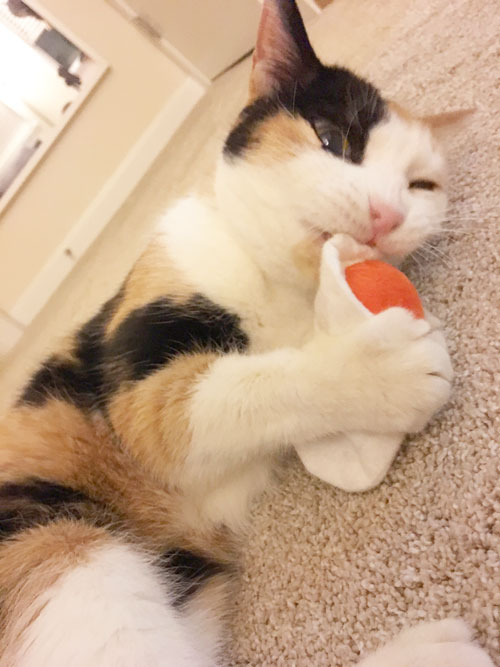 I couldn't let calico month go by without sending in Juno. She turned 16 this month, and she's my favorite bossy old lady. (Pictured here with one of her favorite Cat Faeries toys (a catnip fried egg)!)

Suzanne
---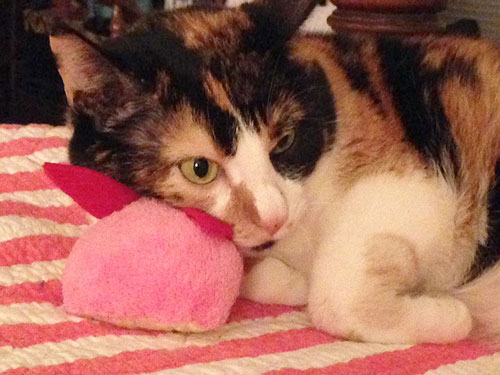 Molly and her catnip bunny! She's eight years old, loves to cuddle, hide under blankets, and catch lizards.

Mary
---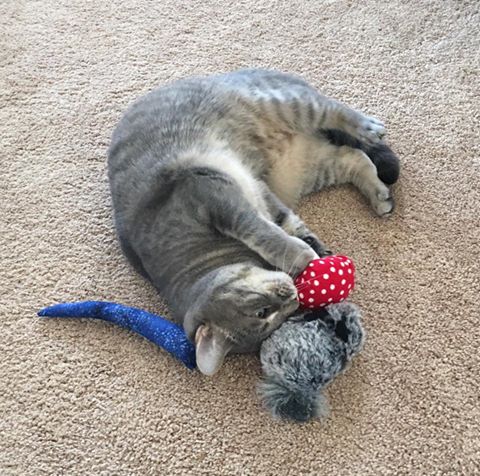 Chessie and her Christmas cat toys!

Mary
---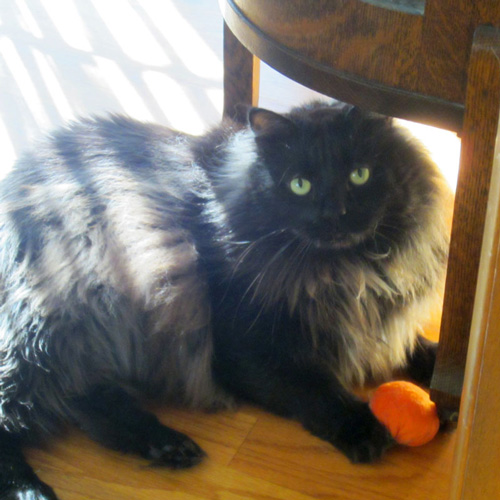 Here is Fudge with his favorite Cat Faeries catnip pumpkin. They all play with this great toy, and it is still holding up well after a couple of years. When I don't see the pumpkin for a while, I know it's gone under the furniture somewhere, and it's time to get the grabber tool out and retrieve their toy stash. Fudge is about 8 years old now, a rescue who was an amazing addition to our household about 5 years ago. He and his buddy Herbie (a long-haired cow kitty) create a lot of cat thunder here, and a cloud of tumblefur every day. Happy Halloween to all the black kitties out there!

Mary
---