Legendary Faerie Cat Beds



At last, a cat bed thatís American made! These are handmade cat beds that does not have any toxic foam. Our legendary Faerie Cat Beds are machine washable, retain their shape and the fabric endures! These special cat beds are comfy. Soft and rich velveteen on the outside and a cozy plush fleece lining on the inside makes a snuggly retreat for any cat weighing up to 20 pounds. We have our own cats and a few bunnies who have test driven these beds for many years. Our beds have been machine washed countless times and the still look and feel great. We know that you will want them for your beloved cats too.

We selected two colors that we felt would compliment any home and dťcor. A lovely celery/sage green, and a sweet neutral beige The fabric on the outside is delightfully velvety and the fleece on the inside is soft and warm. Every cat will love snoozing in such comfort! Set one down near a sunbeam, a heater vent, or the fireplace and watch kitty drift into dreamland.

Because the sides are NOT foam (which is toxic) the sides will smoosh down a little bit to create a super comfortable surface for your catís chin or other body parts! Cats love to make their beds conform to their wants and body size.

Is your cat arthritic or suffering from a condition effecting their legs? Since the sides of the beds do not have that foam, which is very stiff and makes the sides stand straight up forever which therefore requires stepping in and stepping out, our beds are perfect because the sides completely scrunch down. Often a cat will do it themselves or it just happens from their body and how they position themselves. You could even scrunch/press down.

Washing instructions: Before you pop the bed into the washing machine pull the fleece away from the velveteen fabric so that its sort of diamond shaped. This will help the water and soap penetrate the fibers to thoroughly remove dust and fur. You can toss them in the drier for a few minutes but in our experience letting them dry in the air keeps the fleece at its best. When you line/air dry once again create that diamond shape for quicker drying.

Made with love in Northern California in a sweat-shop free factory.


Daphne says:
"My feline sister Madeline did something so fun and so silly with a bed! She flipped it over, smushed it down with her paws to make it cave in the opposite way, and now she's fast asleep on the velveteen part! "
Doesn't our Daphne look pretty in her green bed? The bed almost matches her striking green eyes! Her expression makes us wonder if she's deciding on a nap or stalking her toys - maybe she's planning to make an executive decision for Cat Faeries! Daphne wishes that your cat will soon enjoy the same comfort for day dreams and beauty rest. This size bed is 18 inches diameter and fits a cat up to 20 pounds.

Made with love in Northern California in a sweat shop free setting. Washable!!!


Daphne says:
"Thatís me! Donít I look pretty in my green bed? It matches my sparkling green eyes! When I climb into one of our beds itís lights out and Iím in dream land all snuggly!"
---
Madeline is Cat Faeries 'chief feline nap specialist" who makes all of her business decisions from the comfort of her beige bed. Madeline loves knowing that your cat can enjoy the same kitty snuggle-down! This size bed is perfect for a cat who's weight is up to 20 pounds. The bed is 18 inches in diameter. Washable!!!

Made with love in Northern California in a sweat shop free setting.

Madeline says:
"That's me on the left modeling in one of our beige beds! Iím a 15 pound kitty and this size is good for me as it is for Clifford whoís a small cat. We get so many emails from people who rave about them!"
---
12 inches diameter and about 2 inches thick

Does your cat love the Faerie Cat Bed but needs extra cush for the tush?

As cats age arthritis sets in and bones get creaky. Older cats and even spritely younger cats appreciate our insert which is extra 2 layers of fleece that easily inserts into the Faerie Cat Bed. Or maybe your cat is a Princess and the Pea and every little lump or bump is annoying? Again, those extra two layers will provide pillow like softness for undisturbed slumbers.

Our inserts give you a lot of flexibility for usage: you can place the inserts on the sofa, on the floor or scatter them around in corners for added plush.

The color is the same camel color fleece which lines your Faerie Cat Bed.

Insert only - the beds are sold separately.

Miles says:
"Ah, the inserts! They give our comfy beds just a bit more plush. They are two layers of our fleece carefully sewn together for extra added napping bliss."
---
Clifford says:
"Some people like getting several of them to place on furniture as a washable mat for their cat, while others tuck one inside a cat bed for extra softness for a deep relaxing snooze. They are 12-13 inches in diameter."
---
What Customers Say About Our Cat Beds
---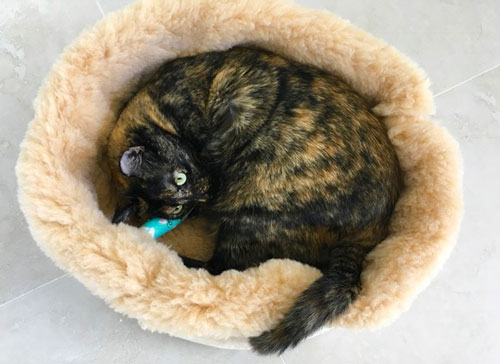 ---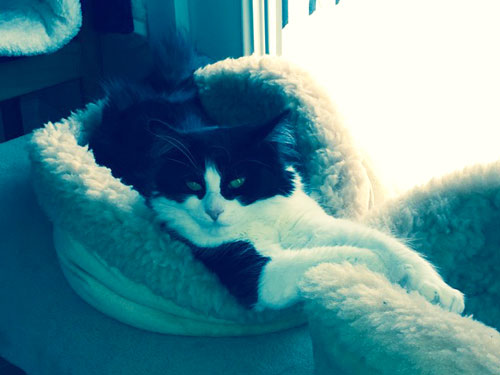 HI, OUR KITTY, JERRY, LOVES THE CAT FAERIE BEDS SO MUCH, HE USES TWO BEDS AT A TIME!! TODAY HE IS ENJOYING A SNOWSTORM FROM THE WINDOW. THANK YOU FOR PROVIDING THESE GREAT BEDS. ALL THREE CATS LOVE THEM.

Cheryl
---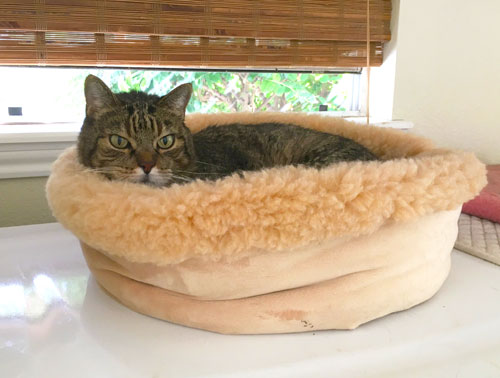 This is my 17 year old cat, Indy. He is the reason I found Cat Faeries. He is a grumpy old man that gets easily stressed by changes in his routine or a stray cat on the property. But he LOVES his cuddle cup!

Linda
---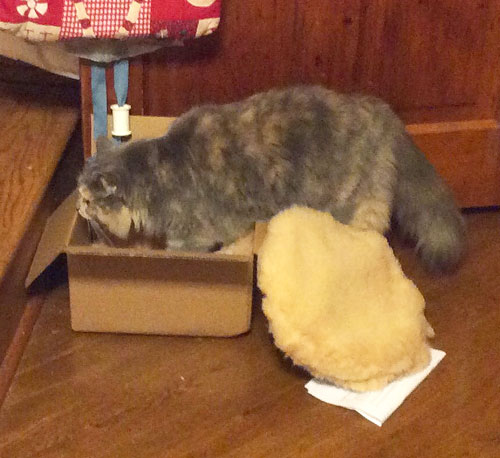 Kiana is so happy to unpack her new bed inserts. She's a very smart kitty :).

Thank you!
Martha
---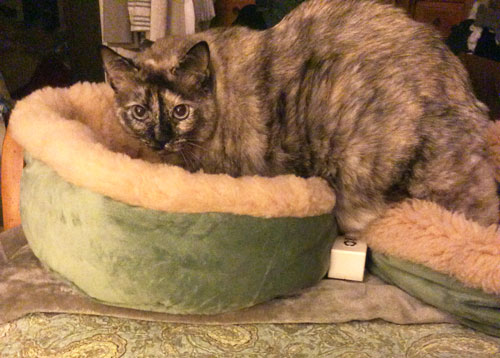 Of course queen Mia is claiming the new bed

Angela
---