Home
/
Flower Essences For Cats
I Love My Litter Box Flower Essences for Cats
With a Mister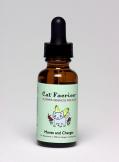 1 fl oz


Stop litter box avoidance and litter box aversion. Get your cat back in the box.




$26.95
In Stock

Most cats who stop using their litter box are experiencing some sort of "litter box aversion." Litter box avoidance is a frustrating and often complex problem afflicting many cats which. Some cats are afraid of their litter box after a bout of a bladder infection, and other catss are afraid of the litter box because another cat chases them out.
If the litter box isn't sparkling clean and in a private location, or it's in a loud location, the cat could turn to carpets, beds, or other surfaces to do their business. You should always use fragrance free litters. You should also remove the hood from the litter boxes. If you are doing all of that already this formula helps your cat get over whatever negative feelings they have towards the litter box. It's a soothing formula which works to abate environmental aversions, inner turmoil, feeling unwanted or unsafe, as well as anxiousness.
This formula comes with a mister top as we feel it's best when sprayed on or around the litter box as well as put in a cat's food and water bowl.