Home
/
Flower Essences For Cats
Pandora Syndrome Release, A Flower Essence Formula for Cats "I no longer care about my past because the present is so good!"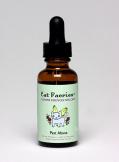 1 fl oz

Recovery
Fear of Humans
Fear of Men
Fear of Women
Fear of children
Recovery from Battery or Violence
General fearfulness
Jittery Nerves
Learn to accept love and kindness
Works well with Emotional Sunshine, Limbic System Re-wire, Calm and Serene


$26.95
In Stock

Has your cat been diagnosed with Pandora Syndrome or do you suspect that you cat may have it? Pandora Syndrome is a heightened state of chronic anxiety and your cat seems to be in a chronic state or flight or fight. Usually the cat is prone to frequent bladder infections or interstitial cystitis. This is a miserable way to live.
Pandora Syndrome Release will help a cat get over events from the past which seems to have damaged them even if it's unknown what may have happened. Pandora Syndrome Release will help to heal emotional wounds and they will fade from their memory and the nervous system. Our loving formula allows a cat to be free and have a calm bladder.
Pandora Syndrome Release would helpful to cats/people currently living in abusive situations. Everyone deserves love and safety.
Calming Pandora Syndrome works well with DNA Support, Limbic System Re-wire, Convivial House Cat, and Calm and Serene.
This one comes with a mister/sprayer because it must be sprayed here and there around the house in addition to it being sprayed on food and water. It's vital to spread the vibration of this formula as part of what must be done to ease a cat who has Pandora Syndrome. A copy of our report on the nervous system will come with this order as will our meditation instructions which will help you change your cat's damaged nervous system.