Home
/
Flower Essences For Cats
Calm and Serene Flower Essences for Cats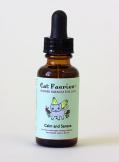 1 fl oz
For Emergencies. Fear. Noise. Anger. Anxiety. Confusion. Nervousness. Trips to the vet. Supports DNA which predisposed a cat to be overly fearful.


$25.95
In Stock

For jittery kitties and fraidy cats and cats who jump at the slightest bump in the night or shutting door. You can easily de-stress your modern house cat very quickly, safely, gently, and effectively. Cats really respond and react to their environment to every situation or activity in their home. To some cats even the slightest change like moving sofa can be devastating. Remodeling or making big changes in the home? Got a loud boyfriend? A new baby? Live with the noise and sounds of the city? This formula will help your cat cope with those stressful situations, and many more. Calm and Serene is also excellent for trips to the vet, any changes to a cat's environment, and general nervousness. Supports any DNA snips which caused the cat to be born to be fearful, easily frightened, overly timid, and who exhibits panic. Remember, cats love to be loved and cherished. Keeping your cat calm has a life extension effect which will add to the beauty and comfort of your home.
Priced for a bottle with a dropper. But some people prefer a mister top so they would be able to spray this formula around the house and on objects. You could also spray it on food or in the water bowl. If you would like a mister top instead of the dropper you can order one for just $1.
I love your flower essences so much! The changes for the better in my cats are dramatic. Thank you Cat Faeries for creating such amazing, easy to use, and safe products for my cats.

Kaylene in Omaha