Home
/
Flower Essences For Cats
Multi Cat Household Harmony Flower Essences for Cats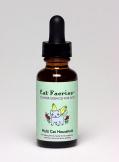 1 fl oz
Make friends and a feel a deep bond with other cats and family members. Acceptance of others. Tolerance. Personal Space. Compliments and boosts Convivial House Cat for ending urine spraying and inappropriate urination. Helps cats accepts other species, like dogs!


$25.95
In Stock

Not all cats like living with other cats, and when they don't, oh do you know it! But we want them to get along and be friends. This remedy will help calm hissy kitties, and lessen the frequency of jealous outbursts. For some cats no matter how large the home is they can feel like its a crowd! Your cats will accept and tolerate each other much better with this great formula. Multi Cat Household will help cats accept tight living spaces. We recommend that you also use Convivial House Cat spray for added calming which will also helps if any of your cats aren't using the litter box like they should.
Multi Cat Household has turned formerly aloof kitties into bundles of purring affection. Formulated so that cats can accept the family dog and other animals in your home - this formula helps with inter-species harmony too! Helps get your cat back to using the litter box when there is fear of other cats or litter box aversion. Many of our customers alternate with Territorial Rescue or Calm and Serene.
Priced for a bottle with a dropper. But some people prefer a mister top so they would be able to spray this formula around the house and on objects. You could also spray it on food or in the water bowl. If you would like a mister top instead of the dropper you can order one for just $1 at the bottom of this page.