Legendary Faerie Cat Beds
At last, a cat bed that's American made! And which does not have any foam. These beds are washable and super comfy. Soft and rich velveteen on the outside and a plush fleece lining on the inside makes a snuggly retreat for any cat weighing up to 20 pounds. Cat Faeries own cats & bunnies have test driven these beds for many years. Our beds have been machine washed countless times and the still look and feel great. We knew you'd want them for your cats too.
We selected two colors that we felt would compliment any home and décor. A lovely celery/sage green, and a sweet beige tan. The fabric on the outside is delightfully velvety and the fleece on the inside is soft and warm. Every cat will love snoozing in such comfort! Set one down near a sunbeam, a heater vent, or the fireplace and watch kitty drift into dreamland.
Because the sides are NOT foam (which is toxic) the sides will smoosh down a little bit to create a super comfortable surface for your cat's chin.
Washing instructions: before you pop the bed into the washing machine pull the fleece away from the velveteen fabric so that its sort of diamond shaped. This will help the water and soap penetrate the fibers to thoroughly remove dust and fur. You can toss them in the drier, but air drying helps keep the fleece at its best, again create that diamond shape for quicker drying.
Made with love in Northern California in a sweat shop free setting.

What Customers Say About Our Cat Beds
---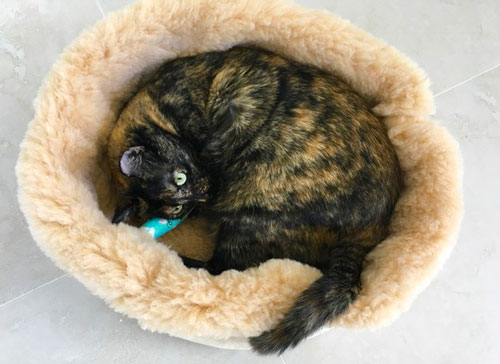 ---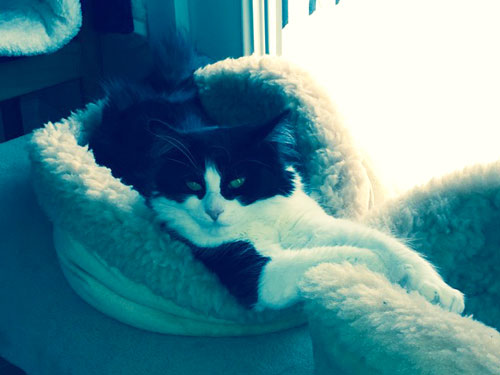 HI, OUR KITTY, JERRY, LOVES THE CAT FAERIE BEDS SO MUCH, HE USES TWO BEDS AT A TIME!! TODAY HE IS ENJOYING A SNOWSTORM FROM THE WINDOW. THANK YOU FOR PROVIDING THESE GREAT BEDS. ALL THREE CATS LOVE THEM.

Cheryl
---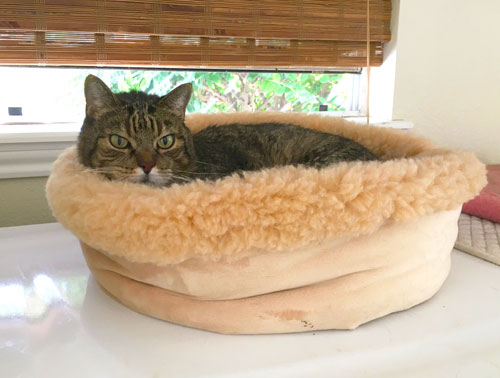 This is my 17 year old cat, Indy. He is the reason I found Cat Faeries. He is a grumpy old man that gets easily stressed by changes in his routine or a stray cat on the property. But he LOVES his cuddle cup!

Linda
---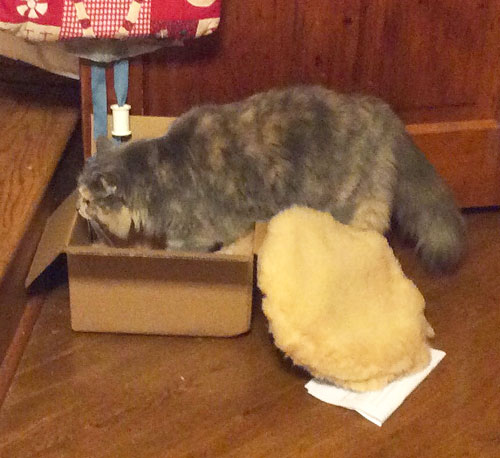 Kiana is so happy to unpack her new bed inserts. She's a very smart kitty :).

Thank you!
Martha
---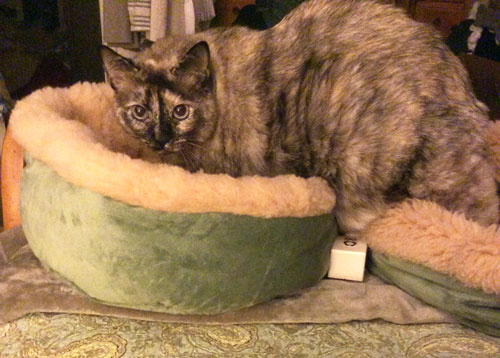 Of course queen Mia is claiming the new bed

Angela
---