Home
/
Golden Healer Crystal - Chubby or Pointed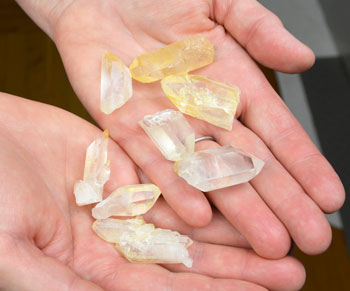 $24.00
In Stock

Golden Healer quartz crystals are very rare, but we manage to find them, probably because in our hearts we believe in them so much that they find us! They tend to be bright and shiny with sizes that range from an a whisker under an inch to bigger. Some are chubby and some are more narrow - all of them feel nice in the palm of the hand and feel soothing when rubbed between fingers. Our Golden Healers have interesting points which we also love, you'll see that some have a sharp point and others are a smoother, rounder point. We love crystals with a lot of personality to them with interesting groves, rainbows, markings and points and we think that you will too!
Golden Healers come in many shades of gold. Ours have a bright shiny wash of gold or yellow. Occasionally they are vivid deep yellows, golds and even sometimes slightly orange. With these little healing powerhouses color and size do not matter. Healers collect them and treasure them, and we'd like you to be among this special clan of compassionate healers.
We'll select just the right crystal specifically for you. When you order you'll see an area on the online order form called COMMENTS. Use it to give us your name or the names of your cats. We'll hold the name in our heart and look at our collection of golden healers. When a feeling of warmth is felt in the heart or in the palm of the hand we know we have been guided to just the right crystals for you.
---
These rare crystals are only found in one or two mines where there are deposits of Iron Hydrate which they absorb and its this that gives them the unique and healing coloration. The colors range from a barely there yellow or gold cast to deeper markings. On some specimens you'll see Iron Hydrate embedded on the outside of the crystal. Coloration does not matter! Nor does size. Every Golden Healer is very powerful and will benefit your life in countless ways.
Golden Healers are themselves master healers, therefore they will help you master your own healing work. They will help you access The Gold Ray. They will help you transform, transmute, grow, change, evolve, find and feel joy, blossom and flourish. They assist you when you need to dissolve negativity and release it. Access your own Christ consciousness, Angelic and Devic energies, and the Goddess within. Golden Healers have a very high vibration or frequency and are very well suited to amplifying your work with our flower essence.
In Vedic astrology this color represents the planet Jupiter, itís day of the week is Thursday which would be the ideal day to do your crystal healing. Thursday is a positive day, a day to wear yellows and oranges, to feel grateful and to be productive, and to take care of our health and the health of those we love. This is a good time to expand your consciousness and to learn something new or elevate what you already know, and crystal work will compliment this perfectly. Gazing upon a golden healer for 3 minutes on a Thursday will soothe the eyes.
Welcome to a special clan of healers who work with Golden Healers. Join us in doing your version of healing work which will benefit those you love and care for, and the member of your unique community.
Be sure to check out our Golden Healer Grab Bags too! Can a healer have too many crystals? HA HA! No!