Home
/
Golden Healer Crystal. Top of the line: AAA grade points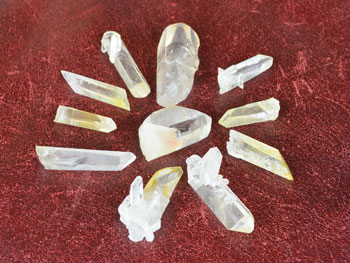 $11.00 $24.00
In Stock

Golden Healer quartz crystals are very rare and we do not know how much longer we'll be able to get them. Ours are the very top of the line: AAA Grade. They are not only hard to come by but these are the finest quality there is. They are a 1 inch to slightly more than an inch long and have a nice point.
They come in many shades of gold. We have them with a light wash of gold or yellow, to various vivid deep yellows, golds and even sometimes slightly orange. With these little healing powerhouses color and size do not matter. Healers collect them and treasure them, and we'd like you to be among this special clan of compassionate healers.
We'll select just the right crystal specifically for you. When you order you'll see an area on the online order form called COMMENTS. Use it to give us your name or the names of your cats. We'll hold the name in our heart and look at our collection of golden healers. When a feeling of warmth is felt in the heart we know we have been guided to just the right crystals for you.
---
Golden Healers are extremely rare. And they are only found in one or two mines where there are deposits of Iron Hydrate which they absorb and its this that gives them the unique and healing coloration. The colors range from a barely there yellow or gold cast to deeper markings. On some specimens you'll see Iron Hydrate embedded on the outside of the crystal. Coloration does not matter! Every Golden Healer is very powerful and will benefit your life in countless ways.
Golden Healers are themselves master healers, therefore they will help you master your own healing work. They will help you access The Gold Ray. They will help you transform, transmute, grow, change, evolve, find and feel joy, blossom and flourish. They assist you when you need to dissolve negativity and release it. Access your own Christ consciousness, Angelic and Devic energies, and the Goddess within. Golden Healers have a very high vibration or frequency and are very well suited to flower essence work.
Welcome to a special clan of healers who work with Golden Healers. Join us in doing your own healing work to benefit those you love and care for, and those in your unique community.