Home
/
Flower Essences For Cats
From Bully to Bestie Flower Essences for Cats - 1 fl. oz.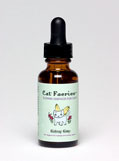 Flower Essence Formulas for Cats are ON SALE Through Thursday Nov. 6th
1 fl oz


Calms down aggressive bullying behavior inflected on other cats in your home. Transform both male and female bullies.
$21.96 $24.95
In Stock

Other species have bullies, just like we encounter too frequently in humans. Often weíll have a cat who seems to take delight in tormenting all of your cats or one in particular. This could be a reaction to insecurity or jealousy, or a personality trait. The actions of a bully cat are stressful to the picked on cat and to you. It keeps the tension level in your home at an unhealthy high. It can also lead to the picked on cat to not use the litter box and thatís something we do not want!
With compassion towards the bully and an understanding of what it must feel like to have the need to bully and pick on weíve sensitively and professionally crafted this formula. It addresses a wide variety of reasons and causes while helping the cat find his or her heart and bond for all in the family. Maybe your bully and victim wonít quite become true lovey dovey besties but the behavior should shift and settle down so that peace is restored and the picked on cat or cats can breathe a sigh of relief and enjoy their life in your loving home.
For the picked upon cat or cats, consider using our Past Abuse formula in tandem with From Bully to Bestie.
NOTE: if the bullying came on suddenly and itís directed at an older cat please take that cat to vet for a check up. Very often healthy animals will turn on an older sick animal. Itís that ancient survival of the fittest thing which is so unnecessary in our modern times with great health care and good doctors. Sometimes the aggression against one cat is an early sign that something is wrong health wise.