Catnip Mist
FREE Cat Faeries 2016 Pocket Calendar
With Any Order! You Just Have to Ask!
Get one calendar FREE with any order, while supplies last. BUT! You must ask for it as we know that not everyone will want one. When you check out use the COMMENTS and type in: "2016 calendar, please" and we'll include one. Details and a picture
here
.
---

We take our prized and legendary wildcrafted catnip, distill it, then bottle it. It's pure and undiluted. We call it Cat Faeries Catnip Mist, and for fun and amusement, we say it's the signature "fragrance" of the modern house cat!
Our pure Catnip Mist is a hydrosol made from Cat Faeries exclusive, notorious, and super potent catnip. Spray it in the air and send your cat into olfactory bliss. You can also anoint your cat's favorite belongings, like toys, perches, scratching posts, and favorite snoozing places. Just don't ever spray the cat - it scares them, and they hate getting wet!
---

Elevate the benefits of our flower essence formulas and allow us to put the formula of your choice into our exclusive catnip floral mist/hydrosol. Spray the air for feline olfactory bliss! Anoint your cat's favorite belongings such as toys, perches, scratching posts, and favorite snoozing places. Just don't ever spray the cat - it scares them, and they hate getting wet, even if it's pure catnip water!
When you order use COMMENTS to tell us which of our formulas you'd like in the bottle and we'll do the rest. This takes Feline Aromatherapy to the next level!
---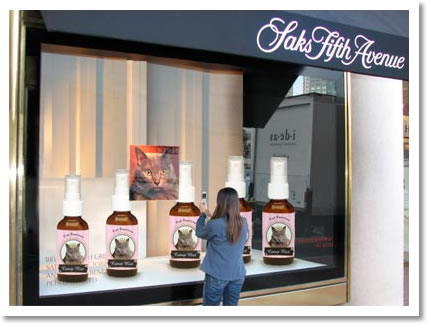 Betty makes rare appearance at Saks Fifth Avenue, October 26, 27, 28, 2007!
The terms of the deal are being kept a secret, but someone partially let the cat out of the bag, and word has leaked that Betty the feline founder of Cat Faeries is the face of Cat Faeries Catnip Mist, the signature fragrance for The Modern Housecat.
Our sources tell us that Betty was quoted as saying "I don't wake up from a catnap for any less than Dave's Albacore canned crab." The rumor mill is spinning with stories that Betty has been paid with 10,000 cans of Pacific Coast Dungeness Crab which harkens back to the late 80's when supermodels Linda Evangelista and Christie Turlington would not get out of bed for less than $10,000. In a recent interview Betty was asked which human supermodel she most relates to. "silly question, why Naomi Campbell of course. She knows how to treat her staff and handlers. If one displeases her, she'll hurl a telephone. If one of mine displeases me, I'll hurl a furball."
Betty's agent, manager, and litter box attendant are dogging all questions about what everyone is curious about: Betty's contract with Cat Faeries, the whereabouts of Betty, and who her favorite tom cats are. But we do know that San Francisco photographer Pat Boyd is Betty's exclusive photographer. "Only Pat can capture my essence, my soul, my rare beauty." a recent press release states. Betty was last seen lounging on a fleece bed with a half empty can of crab and an overturned bottle of Cat Faeries Catnip Mist by her paw, purring "I see so many pretty colors."
Disclaimer: Saks Fifth Avenue is very real.
Pat Boyd Photography is very real: www.patboydphotography.com
October 26 - 28, 2007 Saks' San Francisco store had a window display of photos of animals taken by Pat Boyd to promote a benefit for Pets Unlimited.
Betty, Cat Faeries founder and muse, was one of the cats featured at Saks. Cat Faeries decided to have some fun. Cat Faeries took photos of that window display. Then we altered one of those photos using Photoshop, done with Pat's permission. Photoshop was used to remove the photos of the other animals, and to insert a bottle of Catnip Mist so that it would look like Saks was featuring Betty and Cat Faeries Catnip Mist. Saks Fifth Avenue, Pets Unlimited, and Pat Boyd are not responsible for the creation of this promo.
Saks Fifth Avenue does not sell Catnip Mist. This is a fantasy dream sequence written by Cat Faeries.