Home
/
Flower Essences For Cats
Release The Past Flower Essences for Cats - 1 fl. oz. FREE GIFT -Shungite crystal!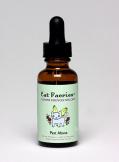 1 fl oz
For: fear of humans, recovery from battery and violence, for when fearful and hiding, jittery nerves, learn to accept love and kindness
You get a FREE GIFT!
Shungite crystal
Retail Value: 5
$25.95
In Stock

Far too many cats have suffered abuse at the hands of cruel humans. This formula will help a cat get over events from the past. It will help to heal emotional wounds and fade them from memory. This loving formula allows a cat to let go of the past. This formula is also helpful to cats (and their humans) who are currently living in abusive situations. People report back to us that they found the courage to leave and move on from abuse when they gave this formula to their cats (we suspect they took it too). We all deserve love and safety. This formula was formerly called Past Abuse.
Priced for a bottle with a dropper. But some people prefer a mister top so they would be able to spray this formula around the house and on objects. You could also spray it on food or in the water bowl. If you would like a mister top instead of the dropper you can order one for just $1.