Home
/
Flower Essences For Cats
Love My Litter Box Flower Essences for Cats - 1 fl. oz.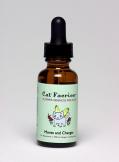 1 fl oz


Stop litter box avoidance and litter box aversion. Get your cat back in the box.
$24.95
In Stock

Most cats who stop using their litter box are experiencing some sort of "litter box aversion." Litter box avoidance is a frustrating problem afflicting many cats, and consequently driving their loving humans crazy. We know that if the box isn't Martha Stewart clean and in a private, safe location, the cat will turn to carpets, beds, or other surfaces to do their duty. We know that we must use fragrance free litters and have hoodless boxes. But when the box is cleaned, and is in a good location, sometimes we can't quite figure out what is bugging the cat about the litter box. This formula helps your cat get over whatever negative feelings they have towards the litter box. It's a soothing formula which works to abate environmental aversions, inner turmoil, feeling unwanted or unsafe, and general anxiousness.