Home
/
Flower Essences For Cats
Elder Support Flower Essences for Cats - 1 fl. oz.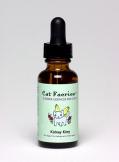 1 fl oz
Support for our aging elder cats. Helps to balance blood sugar and joint mobility. Old cats, new tricks!
$24.95
In Stock

As we age, cats included, things don't work or feel quite like they used to. There are new aches and pains. We feel sluggish and tire easily. It takes longer to recover from minor traumas or illness. We get stiff and lose flexibility. It seems like every body part just doesn't want to work anymore. There's nothing worse than feeling old and slow, no wonder the elders are often crabby. We took inspiration for this formula from our friend Rita Wood, owner of Purrever Ranch in Collierville TN. Rita does cat rescue and only takes in geriatric cats. She shared with us some of the challenges associated with caring for the elders and Cat Faeries wanted to help. So we made this formula. Rita told us of cats who got off their heating pads, cats whose fur improved, cats who wanted to be social again, cats whose appetites came back, and so much more. We are so proud of this elder supporting formula, we hope your aging cats will feel the magical spring in their step once again!