For A Healthy Cat
We began Cat Faeries in 1993 to provide healthy things for cats. We are finicky about quality and the integrity of the maker of any product. Everything we offer here meets our very strict criteria.

We have selected an assortment of items to benefit aging cats, as well as young cats who we wish to see age gracefully and painlessly. Let's keep our feline friends happy and healthy!

Daphne says:
"Finicky Finicky Finicky, that's Cat Faeries! We hunt for, or create, only the best. Healthy cats are happy cats, and healthy happy cats are all set for the best behavior and long purry life!"
For Immunity - Colloidal Defense - 2 fl. oz.

2 fl oz
Protect your cat (and yourself) from viruses, bacteria and parasites.

$48.37

In Stock

Colloidal Defense has been a staple in our office and in our home for years. Now it's time to share its benefits with you and your cats so you can fight pathogens of all kinds.

We have experienced that Colloidal Defense can quickly clear an outbreak of feline Calicivirus and keep it from spreading to other cats! It also helps with Lyme Disease.

Colloidal Defense is a highly effective product that combines gold, silver, and silica into a specific combination that has proven effective against many pathogenic substances, including bacteria, viruses, and yeast. Other colloidal silver products rely solely on the antimicrobial properties of silver. These products typically rely on significant levels of silver for effectiveness. The problem becomes too much silver is toxic to the body. This is not the case with Colloidal Defense.

Colloidal Defense uses relatively small amounts of gold and silver because we find the specific combination is more effective that high amounts of silver alone. Gold will potentate the effect of silver. Silica stabilizes the electromagnetic frequency created by this combination. It is this frequency that stimulates the immune system.

Laboratory Study

Colloidal Defense was tested under Dark Field Microscopy. Dark Field protocol is a well accepted test for determining the vitality of the blood, measuring the size and activity of both the red (erythrocyte) and white (leukocyte) blood cells. It can also detect and identify foreign organisms such as, viruses, bacteria, yeast and parasites in the blood.

The study involved 5 human volunteers ages 18 - 55 that ate the same diet for 24 hours. A blood sample was taken and evaluated. Two half droppers of Defense were administered sublingually. Another blood sample was taken 15 minutes after ingestion of the product. The results showed that Colloidal Defense effectively removes rod-form and L-form bacteria from the blood. Rod form bacteria is disease causing. L-form bacteria grow from the natural flora in the body when conditions are too acidic. While not disease causing in their own right, the toxins produced from their reproduction are very weakening to the body and increases susceptibility to disease. They also serve as a marker for the blood being too acidic.

Interestingly, Colloidal Defense also improves the vitality of erythrocytes and increases the size, population, and activity of leukocytes. Leukocytes act as scavengers helping the body to fight infection. By additionally promoting the vitality of the red blood cells (erythrocytes) indicates that Colloidal Defense is an effective therapy for anemic conditions, and considerably less toxic than many iron dietary supplements.

External Application

Colloidal Defense is also effective in eye and ear infections and can be directly applied. Colloidal Defense is made from pure 99.99% gold and silver. Colloidal silica is pharmaceutical grade. It is also safe for children of all ages and animals.
---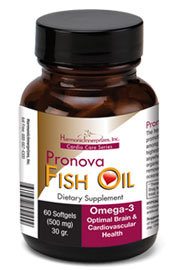 ProNova Fish Oil - 500mg - 60 count
Guaranteed free of heavy metals like mercury and radiation
$22.89
Every cat and every human at Cat Faeries has been taking ProNova fish oil and is feeling great. Hair and fur gleams. Skin is soft and supple. Joints are looser. Old age aches and pains are lessened. Helps prevent constipation!

You'd need to eat buckets of fish to get a good amount of Omega 3. ProNova Fish Oil is from Scotland where the fish is harvested humanely and produced by a company known for being an environmental leader with strong ethics. And that's ProNova who also tests every batch of fish oil for Mercury, other heavy metals, and radiation.

To say that Cat Faeries are finicky about quality is an understatement! We spent a huge amount of time seeking out fish oil that we consider to be safe and it wasn't easy. We looked at fish oils produced just for cats and we looked at fish oils produced for people. But no other brand could or would discuss the concern of heavy metals or radiation.

You'll find cheaper fish oils – that's the problem, they are cheap in every way from the questionable quality of the fish, and in production of the oil. You and your cats deserve the best which is why you are a Cat Faeries customer in the first place!

Fish oil soft gel may be punctured and oil squeezed into food - it is suggested that each cat get one soft gel every 24 hours. If your cat is easy to pill you could give one soft gel orally every day. For people - follow the instructions on the bottle.

Daphne and Madeline both say:

"Ok feline brothers and sisters, get ready for your fur becoming 'fluff city' and your body feeling loosey goosey like a kitten again! One fish oil soft gel a day should keep you pooping perfectly - constipation be gone! We cats have noticed that our fur feels like butter. We both feel like spring kittens because of what this fish oil is doing for us. And our "Maid" says she's feeling years younger, which is good, because we keep her very busy tending to our needs!"

These statements have not been evaluated by the Food and Drug Administration.

This product is not intended to diagnose, treat, cure, or prevent any disease.


---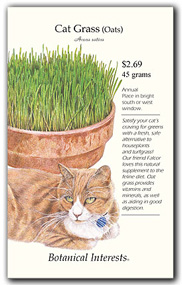 Cat grass is a very important part of a cat's diet. It's full of vitamins and minerals that they may not get from either homemade/raw food or commercial cat food. Ever wonder why your cat might like to chew on houseplants? They need the chlorophyll just like we do. And the greens help them pass fur balls. Houseplants are potentially dangerous. If your cat goes outside and nibbles on lawn, it is not safe as it could be full of pesticides or herbicides. Now with these seeds keeping a crop of very safe, healthful grass going for your cat year round is easy pie!
Botanical Interests selected a species of oat grass that really appeals to cats. The blades are smooth and delicious. And for we humans it's so easy to grow. All you need is a 6 inch flower pot – no green thumb is required! Best of all its grown indoors and it can grow in any climate. Many years ago we sold wheat grass seed and one of our most loyal customers lived at The North Pole. If she could grow it there, anyone in the lower 48 can grow it too!
Seeds are untreated. No GMOs. Instructions are printed on the package. Makes a great gift!
---