Home
/
Legendary Cat Toys
Say I Love You with a Catnip Romance Novel Heart with Ribbons! Be Mine Kitty! Price is for one toy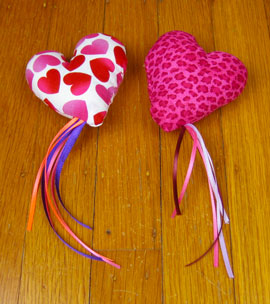 A catnip heart with playful ribbons
$11.98
In Stock

A heart shaped cat toy is not just for Valentine's Day! Show love for your cats every day with our lovey-dovey catnip heart with enticing ribbons. A catnip heart will surely delight every cat no matter what month or season it is. Your heart toy has strands of colorful satin ribbon to make this an interactive toy if you desire. This adorable toy one one way to say "I love you so much Kitty!" The heart prints vary.
A customer in New Hampshire did something very beautiful: "Dear Cat Faeries, do you remember when I emailed you and told you that my cat loving sister was being honored with a luncheon. I asked if you could make 50 of these catnip hearts with ribbons so that one could go on each attendees' plate. My sister was nearly speechless and her friends and co-workers more than made up for it with praise! Thank you so very much, I'll never forget your kindness, and speed for getting them to me at the last minute."
Fabric: Smooth cotton fabric with satin ribbons.