Music for Cats
For many years Cat Faeries behaviorist has told our customers that if they play soft, soothing music they can help keep their cats calm and from fighting. From the feedback we've gotten from customers who do this simple thing, we have come to strongly believe that de-stressing beautiful music will help get a cat to return to using their litter boxes.

We also strongly believe that being calm is one of the secrets to having robust health and living to a ripe old age. We've all heard stories about how illness or disease faded or went into remission when there was peace, calm, and tranquility in the environment and home. Beautiful music sets the mood because it positively effects the brain and the cells of the body.

To keep cats calm during the hours when you are away, set up your CD player so that it plays this CD over and over. Set the volume to low so you don't disturb neighbors or keep your cats from napping.

Cheryl Christine composed each song herself. She plays all the instruments herself - grand piano, harp, and strings. She arranged and mixed the songs for this very special CD herself. The music is completely soothing and uplifting. The music is not new agey, nor is it classical, and its certainly not elevator music. Its just simply elegant and beautiful piano music.

At Cat Faeries we begin our day listening to Mood Music for Cats (and Cat Lovers) - A Ball of Twine, sometimes more than once! It starts us off in a good frame of mind, or de-stresses us when something unpleasant pops up. We love this music and CD. We have been waiting for such a CD for a very long time. We know you will love it.


If every cat listened to this music while their people were
gone every nap would be like a snooze in a sunbeam.

If every cat listened to this music they'd be so relaxed that
they'd probably never squabble among themselves.

If every cat listened to this music,
they wouldn't care if there were cats outside.

If every cat listened to this music, we wonder if
they'd float back to their litter boxes.

If every person listened to this music this pretty
in their cars, there would be no road rage.

If every person listened to this music first thing
in the morning, their day would sparkle and glisten.

If every person listened to this music last thing at night,
they would drift into slumberland and
have beautiful dreams.

Daphne says:
"Oh the melodies! This music is delightful, relaxing and rejuvenating - very much like a good catnap in a sunbeam. All original compositions by a nice lady who loves cats and all animals who was a music prodigy as a child! She's all grown up now she's put her talents into music that's meant to heal the body, mind, and spirit with alpha and theta waves."
---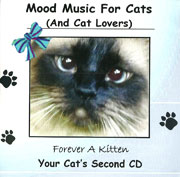 Composed and performed by Cheryl Christine
We asked our favorite composer, Cheryl Christine, who created the well-loved A Ball of Twine, Your Catís First CD to push her genius and create something with deeper sound healing. We wanted to incorporate theta sound waves as our studies tell us, and our personal experience confirms that they are very curative. Not only did Cheryl do it, but she outdid herself and we adore it. In our workroom we seem to be listening to nothing other than these two CDís (and some Miles Davis!) We humans are feeling calmer, more focused, blood pressure and blood sugar are nice and stable, migraines are gone, not a single cold or flu this Winter... so imagine what this will do for your cat and you in your home!
Here are some sound clips so you can experience the beautiful, soothing, and healing music. Donít be surprised if your cat comes up to your computer and begs for more! Itís happened!
11 wonderful original songs:

Forever A Kitten
Kitty Kisses
A Nap In A Sunbeam
A Romp Through The Grass
Chasing Dust Bunnies
Dreaming Of Birds
Pamper Time
Tree With A View
Curling Up With You
Hiding In A Box
On Butterfly Wings

Clips from "Forever A Kitten, Your Catís Second CD"



"Forever A Kitten"



"A Romp Through The Grass"



"Dreaming Of Birds"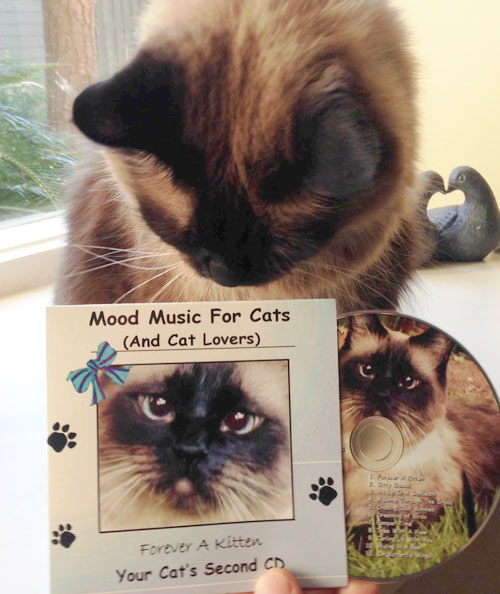 Tipsy looks at her picture on the cover of the music CD "Forever A Kitten."
---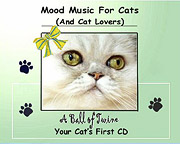 Composed and performed by Cheryl Christine
Eight wonderful original songs:
Tuna Sonata
Vet Visit Blues
Tail Swishin'
Hiding Out
The Hairball Blues
Catatonia
A Ball of Twine
Under the Bed


click the play button to hear
some of "Tuna Sonata"


click the play button to hear
some of "Vet Visit Blues"


click the play button to hear
some of "Catatonia"
---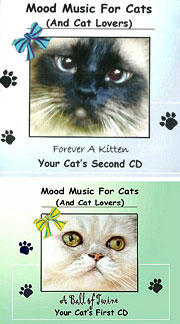 Get both CD's of wonderful, soothing, relaxing music which will delight your cat and you! Comes with a gift for your cat!
---
We asked composer Cheryl Christine who composed the music on "Forever A Kitten - Music for Cats and Cat Lovers" to talk about music and sound waves and how they are important elements on her music for cats (and their people) We thought youíd like to learn more abut this special music.
CF: I have heard about Theta meditation music, would you tell us what it is.
CC: Theta meditation is a deep meditation - also sometimes used in hypnosis or for sleeping. Iíve heard that diabetics listen to it daily to keep blood sugar stable. it also lowers blood pressure.
CF: Tell me about your studies of Theta meditation music and its effects on the brain.
CC: Theta meditation music is very calm, and kind of bathes you in shifting sounds and vibrations to relax you into an expanded state of awareness and openness. Patterns of beats may also be used.
It is more difficult to achieve, and requires a person to have the ability to meditate deeply. It is a highly creative state.
CF: What is an Alpha state?
CC: The ideal state for learning is when the brain is in a relaxed, but aware state. I mean relaxed, aware and focused, not asleep. This is called the Alpha State. A lot of Alpha meditation music is available as well, and it is different from Theta meditation music. As long as we are talking about brainwaves the 'normal' state of 13-25 hertz which is called the Beta state. The beta state is that of most of our waking moments as we go about our daily lives. The slowest state is sleep, which is the Delta state.
CF: Would you compare your music to Theta meditation music that you studied and composed?
CC: I would not say that my CD for cats is pure Theta meditation music, but its very close. It is definitely soft, emotionally settling meditation music that relieves stress, anxiety, and comforts. My CD's have a few of the same shifting sounds and patterns as Theta meditation music, but not at the same beat or pace. I have written Theta meditation music however and I do find the higher state of consciousness fascinating.
CF: What can you tell us about how unpleasant sounds like car alarms or blaring TV sets affect the brain?
CC: Our brains sum up a situation in an instant, (through sight, sound, etc). Whether a car alarm, explosion, thunder etc, we enter into a fight or flight mode. This is done through our central nervous system. Our heart beats faster, our pulse raises, we breathe faster...all because our brain is responding to what is happening around us.
After an unpleasant sound or situation has passed, your body will return to normal by releasing certain chemicals and hormones that give a natural tranquilizing effect. This is not always easy and often becomes more difficult as we age. This is where music is very helpful.
CF: What do people observe in their animals when the CDís are playing?
CC: One man took a video which he sent me. He played the dog CD while away at work and when he came home, "Barnie" was asleep in the bedroom. Before the CD purchase, he would come home to shreds of toilet paper and hoards of other messes the dog made.
When I recorded the Cat CD, the studio owners had two cats who constantly sat on the speakers whenever we started to record. Another cat owner told me about introducing a new kitty to her elder cat. The oldest cat didn't take well to the new "resident" kitty and started losing hair because of nerves. After about a month, the cat owner bought and played Mood Music for Cats and Cat Lovers, softly, near the cats "area". After 1 week she stopped losing hair and starting new growth! The owner called me and thanked me.
CF: What do the fans of your music tell you your music makes them feel?
CC: I have had so many responses from people - all wonderful! People love the music! It has worked for them and their animals when they travel in the car, at home, or just relaxing - it just makes them feel really good. A few friends use the Cat CD while giving massages (they are certified masseuse's) and often times I have had people tell me they play my CD's to fall asleep.
CF: Tell me using the CDís in animal shelters.
CC: When I volunteered at the Animal Shelter in our town for three years, I played the music for the cats in the Cat Room and they loved it. They were much calmer and happier. It made them more adoptable.
It has been documented by several veterinarians in my area as well as across the country that the health benefits from music therapy is very therapeutic for weaning kittens, or helping to heal abandoned or abused animals, or helping with separation anxiety, or just bonding with their owner. Even traveling in the car is made easier with my music playing. All of these things mentioned, I have experienced myself as well as many of my fans. Just as music helps people relax, it also helps animals.
CF: How often should a person listen to this music with their furry friends?
CC: As often as it makes them feel good! Preferably every day.
CF: I like that your compositions are not ďnew agey.Ē I think of it as very pretty music, sounds that I think anyone would enjoy. How would you describe your music?
CC: My music is healing, relaxing and soothing...a beautiful blend of grand piano, strings, flute, and harp gently dancing with each other!
CF: Cheryl, as you know on Cat Faeries website people can listen to a bit of one of the songs on Forever A Kitten. One customer told me that she had a new cat who was hiding in the closet where her computer is, the cat would not budge! She was thinking of buying the CD so she pressed the ďplayĒ button several times. The cat came out of the closet and never returned to hide!
CC: Thatís a beautiful story! I love to hear stories of people who don't give up on their pets and will go to any length to help them if they can! And that is why I write music for our wonderful furry friends and their owners. There is a special place in my heart for people who love their pets (or family members as I refer to them!).
Cat Faeries, I cannot tell you how much I appreciate your sharing my music with your customers and their cats. Your many years of continued dedication of helping people and their fur-friends shows how genuine and beautiful you are!
CF: We play both of your CD's for cats while we work. We find that your music soothes us and adds to our focus and stamina. It's relaxing, but also uplifting. Our bunnies share half of our workroom with us and when we play either CD the buns sit quietly, it's almost meditative. Itís adorable!
CC: Music is calming to any species. I am from Minnesota originally. Sometimes when I go back home to visit I will go up to my parents "getaway" property near Brainerd, MN where there are lots of wonderful farmers for neighbors. My dad knows one particular farmer who gave us a tour of his dairy farm. When we went inside to see the cows milking, there was some soft country music playing...I asked him about the music and if it was his favorite. He said no - it was for the cows! They milk better when the soft music is playing. And he wasn't joking, I witnessed it!
---
What Customers Say About Music for Cats
---
Hello, I received Forever A Kitten CD this morning. I played it while I took a nap. My felines enjoyed the CD too. It will get a workout here! I appreciate the prompt delivery, and your cat toys are incredible. It would be hard to choose one! Will definitely be placing an order for some of your toys. I especially like the oyster on the half shell with pearl. Great idea.

Thanks again, Cat Faeries!
S Cole, Ohio
---
I played the samples of both cat CDís and loved the music! Oh, and Velveeta liked it, too!

Mary Jo
---