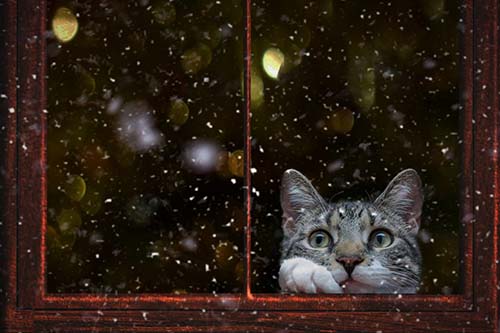 We people know that chilly weather makes us hungry for more food. This time of year we begin to crave roasted vegetables and meats, and we hunt for new recipes for stews and soups. Hot food warms our bones and hearts!
Often we don't realize that our cats respond to weather changes like we do. During Summer while we are eating salad our carnivore friends might leave food behind in the bowl. But in Winter the bowl is licked clean and they meow for more.
How much more? A study that we found told us that in Winter cats will eat about 15% more food than during the rest of the year.
Be a rock star Feline Chef and don't grab food for your cat from the fridge and serve it cold. Steam it for a minute or two, or warm it up in a pan with a bit of water so it won't stick.
Warming up or steaming cat food does some nice things for your cats:
If the cat has a cold or a respiratory problem warming the food brings out the aroma. Cats only eat what they can smell.
Increases digestibility especially for older cats with slower digestive systems
Nice for cats who are missing teeth
Kittens and cats of any age will be reminded of warm mother's milk. The food will be much more appealing and soothing to any cat.
Four years and 38 cats later a study by the University of Liverpool School of Veterinary Science revealed some interesting things about cats.
Veterinarian and study author, Dr Alex German, said: "Cats, like many humans are more inclined to comfort eat when it's cold outside but, in their case, it's likely to be due to the extra energy they need to keep warm when out and about."
Seasonal food intake has been examined in the past on farm animals, such as dairy cows, to establish new ways of increasing milk production, but this is the largest study that has yet taken place with domestic cats.
Dr German said: "People should consider the amount of food their cats need at different times of year as this can be part of helping them to maintain a healthy weight."
Read more at: http://phys.org/news/2014-05-cats-winter.html#jCp