Friends,
Cat Faeries loves to say THANK YOU with free gifts. Throughout our website you'll see this image...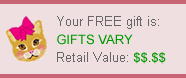 ...along side product offerings which offer free gifts.
From time to time we will offer other gifts and promotions. To keep apprised of what we are currently offering, sign up for our newsletter!
Thank you. It is a pleasure to serve you and your cats.
Your good friends at Cat Faeries