Home
/
Flower Essences For Cats
My New Home! Flower Essences for Cats - 1 fl. oz.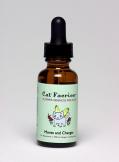 1 fl oz


Bond, trust, acclimate, celebrate!
$24.95
In Stock

Did your new feline friend come from a shelter or from a situation that may not have been ideal or loving? This remedy helps to build trust and confidence. It will help your new cat learn or re-learn how to accept love and affection. If your beloved cat was adopted from a shelter this will help your cat get over that stressful experience and acclimate to you, your home, a new routine, and new family members, including other cats and animals.
Your bottle automatically comes with a dropper, but if you'd like a mister top so you can spray this formula around the house, or on objects or in your cat's food/water just look up a bit and you'll see where you can add one to your order for just $1.