Home
/
Legendary Cat Toys
Be Mine Kitty! I love you! 2 Catnip Hearts w/ribbons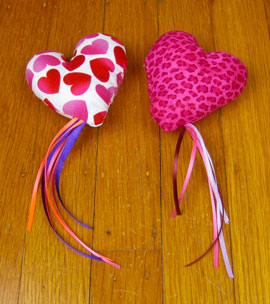 All Cat Toys are On Sale Through November 20th!
2 catnip hearts with playful ribbons
$12.98 $14.98
In Stock

Celebrate Valentine's Day year round with a set of 2 hearts sure to delight every cat no matter what month it is. Each heart has strands of ribbon to make this an interactive toy. You get two hearts just like the one of the right (we no longer have them with stripes). Each heart toy contains 3 tablespoons of our notorious catnip inside plus fiber-fill to give the hearts a good firm shape. This is how to say "I love you so much Kitty!"
FREE SHIPPING WHEN YOU ORDER ONLY CAT TOYS!