Home
/
Healthy Cats
Skin Coat 60g Powder - Bixbi Organic Pet Superfood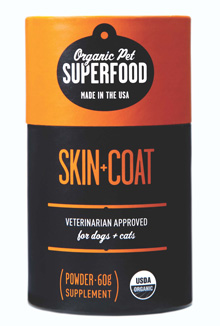 NEW!
$24.96 $27.87
In Stock

What it does:
Whole food antioxidants and B-vitamins provide key nutrition while nourishing the skin and reducing free radical damage at the cellular level. SKIN+COAT's unique organic mushroom formula also contains natural immune modulators which balance overactive antibody responses — the cause of itchy skin, rashes and excessive shedding in cats with allergies. With SKIN+COAT, your cat or dog will look and feel its very best.*
Recommended Uses:
Therapy for cats with flaky or itchy skin, excessive shedding, dermatitis, etc.
Preventative for cats or dogs who are prone to hot spots,rashes, or skin allergies
Use alone or in conjunction with the IMMUNITY formula
Serving Size: 1/8 teaspoon per 12.5lbs.
Instructions: Add to food once a day. Food can be: dry crunchies, canned, or home made. For sick cats or dogs double the dosage for the first 7 days.
*These statements have not been evaluated by the Food & Drug Administration. This product is not intended to diagnose, treat, cure, or prevent any disease.
More Detail:
Fills in nutritional deficiencies in skin for a beautiful coat and reduction of (1) itchy skin (2) hot spots and (3) rashes
Just like Omega 3's, many medicinal mushrooms help to nourish the skin and coat, heart health, vision, and immune function.
Nourishes with B-vitamins and powerful anti-oxidants
Allergies and irritation lead to an overactive immunity system; this special formula helps suppress this state of excitation, leading to relief
High levels of anti-oxidants present in mushroom concentrations help prevent dermal cell damage
Naturally occurring Trolox: the active ingredient in Vitamin E (anti-oxidant)
B- vitamins for more efficient food breakdown and energy conversion
Enzymes break down food more efficiency and completely for greater cellular uptake