Home
/
Healthy Cats
Digestion 60g Powder - Bixbi Organic Pet Superfood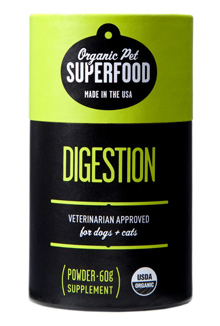 $24.96 $27.87
In Stock

What it does:
DIGESTION is packed with thousands of natural enzymes, antioxidants and immune-modulating compounds. This unique blend of powerful organic mushrooms contains naturally occurring B-vitamins to help convert food to energy for everyday activity and fighting disease. Also, the DIGESTION formula improves digestive efficiency while combating gas, loose stools and bad breath. Give your catís diet the support it needs with DIGESTION in every meal.*
Recommended Uses:
Therapy for cats with symptoms of gastrointestinal disturbances, including gas, bad breath, loose stools or constipation
Preventative for highly active cats needing efficient nutrient processing and for cats (and dogs)who are prone to digestive imbalances
Use alone or in conjunction with the IMMUNITY formula
Serving Size: 1/8 teaspoon per 12.5lbs.
Instructions: Add to food once a day. Food can be: dry crunchies, canned, or home made. For sick cats or dogs double the dose for the first 7 days.
*These statements have not been evaluated by the Food & Drug Administration. This product is not intended to diagnose, treat, cure, or prevent any disease.
More Detail:
This formula contains thousands of enzymes used to break down food for efficient uptake
Pre-Biotic ingredients provide a rich nutritional source for good bacteria in small intestine
70% of immune system defenses reside in small intestine
Better breath due to increased digestive efficiency
Shrinks and reduces odor of stools, indicating better food conversion