Home
/
Healthy Cats
Joints 60g Powder - Bixbi Organic Pet Superfood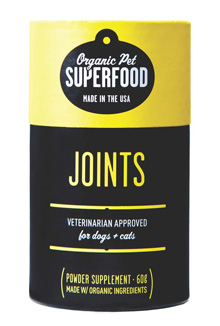 $24.96 $33.86
In Stock

What it does:
Packed with natural antioxidants, this unique medicinal mushroom formula fights free radical cell damage caused by age, exercise and stress. It aids circulation, eliminates toxins and fights inflammation at the source. Also, JOINTS is made with NEM® (Natural Eggshell Membrane) — clinically proven to reduce joint and soft tissue pain. Keep your cat/dog moving with JOINTS.*
Recommended Uses:
Therapy for cats (or dogs) with sore joints, arthritis, soft-tissue irritation or inflammation
Preventative for highly active and older animals
Use alone or in conjunction with the IMMUNITY formula
Serving Size: 1/8 teaspoon per 12.5lbs.
Instructions: Add to food. This can be dry crunchies, canned, or home made. For sick cats or dogs double the dose for the first 7 days.
*These statements have not been evaluated by the Food & Drug Administration. This product is not intended to diagnose, treat, cure, or prevent any disease.
More Detail:
Natural Eggshell Membrane (NEM) contains natural concentrations of chondroitin and hyaluronic acid, which are clinically proven to reduce pain and stiffness, and increase mobility
NEM has been shown to be five times more clinically effective than glucosamine and chondroitin combined
This mycelia blend possesses polysaccharides that provide similar benefits to those of natural omega 3 fatty acids; the natural anti-inflammatory properties of these polysaccharides make them a gentle alternative to harsh anti-inflammatory steroids and other potentially toxic pharmaceuticals
Contains naturally occurring chondroitin and hyaluronic acid
Mycelia in the proper combinations adaptogenically bring a pet's irritated, over-stimulated immune system back into equilibrium