Home
/
Healthy Cats
Immunity 60g Powder - Bixbi Organic Pet Superfood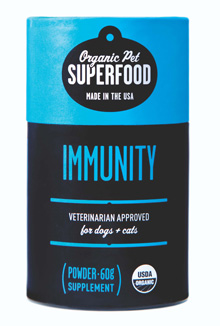 NEW!
$27.87
In Stock

What it does:
Potent antioxidants such as L-Ergothioneine, selenium and vitamins C & E prevent damage caused by stress, infection, pollution and aging. The polysaccharides in our unique blend of powerful organic mushrooms improve natural killer and T-helper cell activity, and work to balance the immune system. Give your furry friend its best defense by using IMMUNITY every day.*
Recommended Uses:
General health and wellness supplement suitable for any dog or cat
Adjunctive therapy for dogs recovering from cancer treatment, sickness or trauma
Use alone for general wellness or with one of our other formulas to target specific concerns
Serving Size: 1/8 teaspoon per 12.5lbs.
Instructions: Add to food once a day. This can be dry crunchies, canned, or home made. For ill cats/dogs double the dosage for the first 7 days.
*These statements have not been evaluated by the Food & Drug Administration. This product is not intended to diagnose, treat, cure, or prevent any disease.
More Detail:
High Polysaccharide content (long-chain glucose molecules—1,6-D-Beta Glucans) increases natural killer (NK) cells.
Polysaccharides and resulting NKs are key to; inhibiting abnormal cell growth, promoting increased T-Helper, Macro-phage and T-Killer cells—the natural killer cells that attack abnormal cells.
Works well as a preventative due to generalized adaptogenic properties.
Studies show that the mushrooms in the Immunity formula improved the quality of life for patients undergoing cancer treatment.
Therapeutic levels of l-ergothioneine provide potent antioxidant effects and are indicated in the prevention and treatment of chronic inflammatory diseases that may affect the skin, joints, digestive system and internal organs.