Eat Chocolate! Help Cats!
You know how much we love to give, and to be of service and benefit. Now we are doing it, deliciously.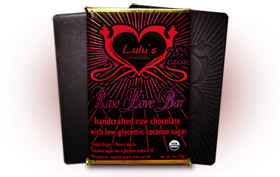 In addition to the 1% of our total sales that we donate to cat and animal charities, we are now selling Luluís Chocolate - raw, vegan, and fair trade cacao bars - and giving giving $2 from the sale of each bar to organizations which are helping middle class people who are in financial difficulty pay for vet bills. These groups are popping up all over the US and we love it!
The bars are made by Luluís Chocolate and we adore her and them. They are lusciously deep and rich and contain raw cacao which is reunited with its mythological lover: Vanilla, fruit of an orchid flower. And for you serious (and not so serious) chocolate lovers this is a whopping 78% cacao! Ingredients: Ecuadorian Cacao, Coconut Palm Sugar, Vanilla Bean, Sea Salt & Love. Every ingredient is organic and fair trade and from small family run farms known to Lulu personally.
Coconut sugar has a glycemic index of 35 thus making these bars available to persons who need to avoid other sugars. Hand crafted by a chocolate alchemist and crusader for all that is good and delicious.
Why eat raw cacao? Itís a health food! Dr. Oz loves it. Nutritionists love it. The Aztecs loved it and revered it.
Other chocolates made from processed cacao and sugar only have 1 to 5 percent of the nutritional value found in raw cacao. Lulu uses only fair trade organic raw cacao which is processed minimally thus retaining all the healthy compounds and benefits.
Supports the brainís cognitive functions.
Mood and bliss enhancement
More antioxidants than blueberries, acai, green tea, red wine
Contains flavonoids which are anti bacterial, anti viral, anti tumor, anti inflammatory, anti allergenic.
More magnesium than any other food
Lowers blood pressure
Anti inflammatory
Boosts HDL and lowers LDL
Your heart loves it as it reduces the risk of cardiovascular mortality.
Remember... Keep chocolate in any form out of the reach of curious animals. Chocolate is toxic to them, even in small amounts. Luluís Chocolate is for people, not cats or other animals.
---
---