About
Cat Faeries™ is a small green business which has been in service to cats and their people since March 1993. We are here to help humans understand their feline house companions. And, we take this responsibility very seriously.
We believe in using a very enlightened approach to problem solving,making cats happy and helping you so that you cat lives a very long and healthy life. We'll help you get your cat back in the litter box. We'll help harmonize households with multiple cats and other animals.
Cat Faeries does endless and ongoing research. We formulate sound and original advice and products. The products we create or seek out really work. We will not waste your time or your money. Any product we carry is safe for all beings and the environment.
Cat Faeries began in the Fall of 1993 when our founder was the contributing editor of Tiger Tribe magazine which was the first magazine devoted to natural and wholistic care for cats. In January 1995 we launched Cat Faeries first website. Over the years we have received emails and cards from beautiful people detailing their wonderful stories of success with our products.
When Feliway came out in 1997 we knew that this product would set a new course for Cat Faeries. We saw that the problem of cats who spray or who urinate outside of their litter boxes was not being properly addressed. These are the number one reasons why cats are abused or dumped in shelters, or even euthanized. We had to act! We consulted with the inventor of Feliway and worked with feline experts at the universities. We have thoroughly studied cats and Feliway and are now the experts.
In 1980 we began working with flower essences. They beautifully and naturally solve problems and correct imbalances for all beings. After committing to Feliway the next step was to create flower essence formulas which would boost it's effectiveness, as well as correct other problems. The formulas are wildly popular with not only our customers, but with veterinarians, shelter directors and volunteers.
Have fun, be healthy, kiss your cat, smile at strangers, plant seeds, compost, drive slower and drive less, read labels, don't buy junk, be a part of your community, and be kind to all creatures. You have the power to transform yourself, your cats, and the world around you! You hold so much power in your heart, feel it, and use it to benefit others.
Cat Faeries
PO Box 31885
San Francisco, California 94131

---
The Cat Faeries Family: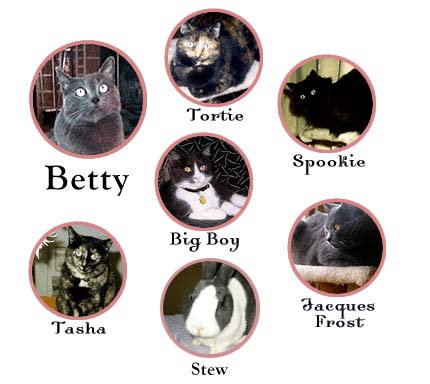 Here are a set of pictures of Stew, one of our bunnies, having an acupuncture session.