Home
/
Flower Essences For Cats
Territorial Rescue Flower Essences for Cats - 1 fl. oz.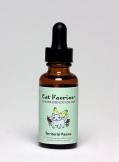 1 fl oz
Calms turf battles and fights. Ends Gender conflicts. Jealousy. Possessive tendencies. Spraying.
$24.95
In Stock

All cats are territorial to a degree. But for some cats territory is everything, and they'll do whatever they must to be top cat and rule the house. Haven't we all thought we heard a cat say "Everything here is mine mine mine!" Being overly territorial can lead to problems such as constant battles for dominance, and frequent fighting. Often those feisty females or brutish boys will use their urine as a weapon to show who's the boss. Or rather who "wants" to be the boss! For some cats if any 4 footed creature comes near The Castle signals that it's time to fight and defend their turf which can lead to spraying. When used in conjunction with Feliway the effectiveness of that wonderful product is boosted. Many of our customers alternate with Multi Cat Household. When used together, both flower essence formulas will assist with litter box aversion, and/or the fears associated with using litter boxes shared with other cats.