Home
/
Flower Essences For Cats
Shelter Cat Support Flower Essences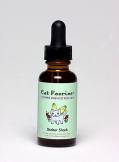 1 fl oz
For: For the pain and sorrow of abandonment, getting over fear, loneliness, cope with the shelter environment.
$25.95
In Stock

For the cat who is suddenly at a shelter. For all cats waiting adoption and their forever-home. A shelter can be a very scary place for a cat. If euthanasia takes place there, the cat can smell death, and will feel great fear and worry That: "Yikes! I could be next!" Most shelter staff are kind people but it's not the same as a loving home. This remedy eases the pain of abandonment, fear of the environment, the sorrow felt by cats who were dumped at a shelter, the confusing sights and sounds the cat must contend with daily.
Your bottle automatically comes with a dropper, but if you'd like a mister top so you can spray this formula around the house, or on objects or in your cat's food/water just look up a bit and you'll see where you can add one to your order for just $1 at the bottom of this page. This formula would be great sprayed around a shelter!