Home
/
Flower Essences For Cats
Shelter Shock For Cats Flower Essences for Cats - 1 fl. oz.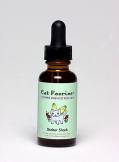 1 fl oz
For: Getting over fear, the pain and sorrow of abandonment, loneliness. Builds trust and confidence, re-learn how to accept love
$24.95
In Stock

For the cat who is suddenly at a shelter, and for all shelter cats awaiting adoption. A shelter can be a very scary place for cats. If euthanasia takes place there, the cat can smell death, and will feel great fear and worry "Yikes! I could be next!" Most shelter staff are kind people, but it's not the same as a loving home. This remedy eases the confusion, fear mistrust and sorrow of a cat who was dumped at a shelter. This remedy is also recommended for a cat who was adopted from a shelter. It will assist that cat in getting over the shelter experience, and acclimate to a new home.