Home
/
Flower Essences For Cats
Moves and Changes Flower Essences for Cats - 1 fl. oz.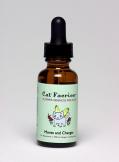 1 fl oz
New home or big changes in existing home
$24.95
In Stock

Cats are not fond of change - at all! For some cats just moving a chair can cause their world to turn upside down. When that happens cats get nervous and hide, they can urinate where they should not, they can cry, they can stop eating. Change is a constant in our modern world so we need to help our feline friends who do not understand the kinds of changes which do not bother us. This formula helps soothe cats, and helps to ease the jitters which they can experience with new beginnings. Remember to always love your cat and try to understand the unique mind of the feline.