Home
/
Flower Essences For Cats
Feral Cats Flower Essences for Cats - 1 fl. oz.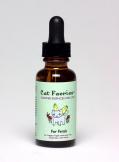 Flower Essence Formulas for Cats are ON SALE Through Thursday Nov. 6th
1 fl oz
Neglect, fragile health, gain trust, release fear, make friends
$21.96 $24.95
In Stock

For the all too common "throw away cat" living solo and homeless or cats living in a feral colony.
This formula does two things:
1. helps keep feral cats healthy, and
2. helps to build trust of these kind hearted people who feed them, who trap/spay/release, and who try to find homes for their kittens.
It can ease aggression and fear. The life of a feral cat is horrible and short - this formula can help that life be better. This formula makes a lovely donation to shelters and feral cat workers.