Home
/
Comfort Zone with Feliway
2 SPRAY Comfort Zone with Feliway
1 Territorial Rescue Flower Essences for Cats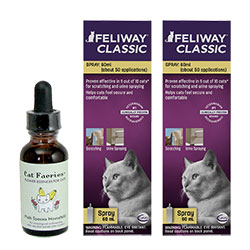 All Comfort Zone with Feliway products and bundles are on sale until Thursday October 23rd.

$61.46 $64.69
In Stock

(See here for product bundles. Bundles help you shop for what you really need and that saves you time and money. You'll love our flat rate shipping!)
Get two bottles of Comfort Zone with Feliway spray plus one bottle of Cat Faeries Territorial Rescue Flower Essences for Cats formula. Territorial Rescue addresses territory battles among cats, and is helpful to calm cats who are overly territorial. Many cats act out in the form of chasing and attacking, growling and hissing, and guarding that which they think is solely theirs. For turf conflicts, spraying and for the cat who feels that everything in sight is theirs and only theirs. For indoor cats who are annoyed by cats outside.