Home
/
Comfort Zone with Feliway
2 SPRAY Comfort Zone with Feliway
1 Multi Cat Household Flower Essences for Cats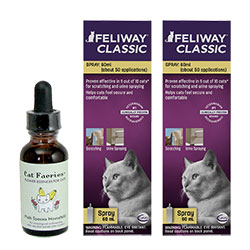 All Comfort Zone with Feliway products and bundles are on sale until Thursday October 23rd.

$61.46 $64.69
In Stock

(See here for product bundles. Bundles help you shop for what you really need and that saves you time and money. You'll love our flat rate shipping!)
Get two bottles of Comfort Zone with Feliway spray plus one bottle of Cat Faeries Multi Cat Household Flower Essences for Cats formula. Multi Cat Household coupled with using Feliway spray helps cats who may not love the idea of living with other cats get along and stop fighting. Helps a cat feel that their space is not violated, promotes the family bond, promotes gender harmony, and promotes acceptance and tolerance. Helps cats make friends with their feline housemates, and even their human housemates.