Home
/
Anti Icky Poo - The Urine Cleaner That Works
2 UNSCENTED quarts of Anti Icky Poo Urine Cleaner, plus 1 sprayer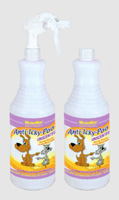 $37.86
In Stock

(See here for product bundles. Bundles help you shop for what you really need and that saves you time and money. You'll love our flat rate shipping!)
Fragrance free! Newest technology! Even stronger than the original formula. We love it!
Save money on shipping when you buy this bundle of 2! The shipping for this bundle is the same as if you bought one bottle above!
We'll give you just one sprayer which we encourage you to save and re-use. But if you need the 2nd sprayer please make a note in the comments area of the order form. Or if you don't want any sprayers please tell us that too. We love that our customers like to conserve resources like we do!