Home
/
Comfort Zone with Feliway
1 REFILL - Comfort Zone with Feliway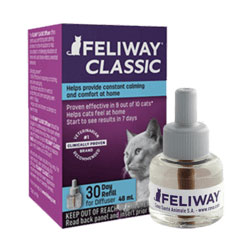 $20.47
In Stock

(See here for product bundles. Bundles help you shop for what you really need and that saves you time and money. Youíll love our flat rate shipping!)

Each refill bottle lasts about 4 weeks. Stock up! Most people look at using Comfort Zone for Cats plug-in system as a forever thing. Its great for calming and stopping the urinating problem. Mark your calendar to remind yourself to replace old bottles or to order more.
FREE stickers for your 2013 calendar!
Only at Cat Faeries: calendar stickers to tell when itís time to replace an empty refill!