Home
/
Anti Icky Poo - The Urine Cleaner That Works
1 - FRAGRANCED Anti Icky Poo, quart, plus 1 sprayer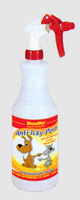 On Sale Until Thursday October 8!
$17.04 $18.73
In Stock

(See here for product bundles. Bundles help you shop for what you really need and that saves you time and money. You'll love our flat rate shipping!)
If you don't need or want the sprayer put a note to us in the comments area of the order form. The sprayers are very high quality and can be re-used when you buy Anti Icky Poo. Let's conserve resources!