Home
/
Anti Icky Poo - The Urine Cleaner That Works
1 STAIN REMOVER quart plus 1 sprayer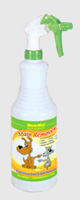 On Sale through March 12th!
$18.73
In Stock

(See here for product bundles. Bundles help you shop for what you really need and that saves you time and money. Youíll love our flat rate shipping!)
Some surfaces or objects really grab hold of that not-so-attractive urine yellow color and wonít let go! Once youíve gotten rid of the odors with your Anti Icky Poo, now itís time to get the icky yellow out.