Home
/
Anti Icky Poo - The Urine Cleaner That Works
1 P-BATH quart Pre-treatment plus 1 sprayer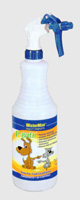 On Sale Until Thursday October 8!
$17.36 $19.08
In Stock

(See here for product bundles. Bundles help you shop for what you really need and that saves you time and money. Youíll love our flat rate shipping!)
If your urine stains are fairly new and youíve not used any other cleaning product you probably donít need P-Bath. But if your stains are old and/or you have used other cleaning products which might slow down Anti Icky Pooís action (for example an anti microbial product), then P-Bath is for you. Itís a great pre-treatment which will change the pH of the stain from acidic to neutral thus allowing Anti Icky Poo to work its magic even better!