Home
/
Feliway
1 DIFFUSER STARTER KIT WITH CLASSIC FELIWAY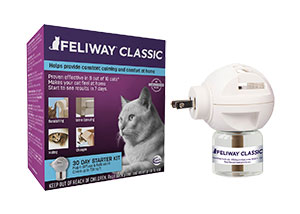 $31.45
In Stock

(See here for product bundles. Bundles help you shop for what you really need and that saves you time and money.
The Feliway pheromone we love so much also comes in a plug-in diffuser. When you order it you get your reusable diffuser plus your first bottle of the pheromone. You'll replace that bottle every 4 weeks. Our calendar reminder stickers help you to remember. Feliway spray + diffusers = success!

Greater convenience
Works 24/7
Works best when you also spot treat with Feliway spray
Once you've gotten the urine problem controlled with the spray let the plug-in take over
Ideal for calming fighting felines
Reduces anxiety, stress, anger or fear
The friendly scent makes cats happy
Covers an area of 500-650 square feet
Most customers use 2 per room
You get the reusable plug-in with one bottle of the Feliway pheromone which will last 4 weeks (refills are available - see below).
FREE stickers for your 2013 calendar!